Bullet journaling has been a lifesaver for me and my not-well-organized itself. For years, I was a hard-core long-format journaler. Each night, I'd sit down and scrawl several pages describing my thoughts, feelings, and experiences. Journalling was a big help to my mental health, like it is for many people, according to researchers 1, but over time, this longhand format became less and less of the catharsis that it had once been, and more of a chore.
How, I wondered, could I maintain the organizational and psychological benefits of journaling without spending so much time on my journal? That's when, through Pinterest, I was introduced to bullet journaling! As an amateur illustrator and lover of pens, paper, and stationery supplies, bullet journaling was a great fit for me.
Initially, I waffled between using highly intricate and decorative bullet journal pages and more basic, minimalist bullet journal layouts. I'll confess, I still waffle between these very different styles. Sometimes, still, I alternate pages that are very detailed with pages of very minimal designs.
Now that I have been bullet journaling for a few years and gotten comfortable with my own unique approach to my "Bujo" (short for bullet journal) – and even developed my own methods, I realized I have collected quite a number of bullet journal related tutorials on this blog. Today, I wanted to take a few moments to review and roundup the BuJo resources available on bulletjournaljunkies.com.
Making Bullet Journal Templates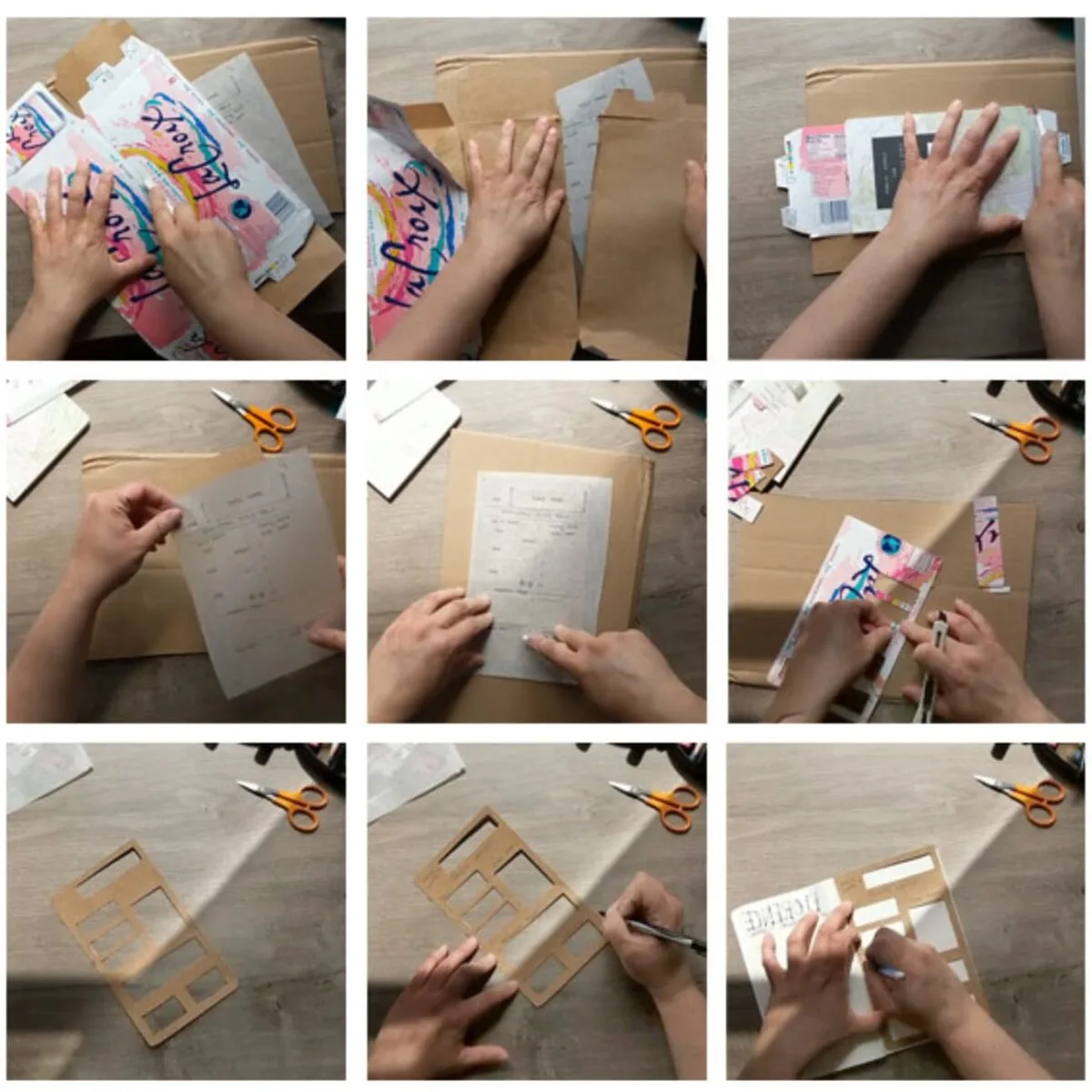 Far and away my best tip for starting a new bullet journal is using bullet journal templates. By studying your previous journals (or your inspiration journals if you're new to bullet journaling) you can probably recognize a few basic layouts that get used over and over. By transferring these layouts into an easy-to-trace template, you can save time setting up pages, which lets you spend less time on layouts and more time using and enjoying your bullet journal. For step-by-step instructions on how to create your own bullet journal templates designed just for you, check out my tutorial.
Bullet Journal Secrets: Keeping an Idea Notebook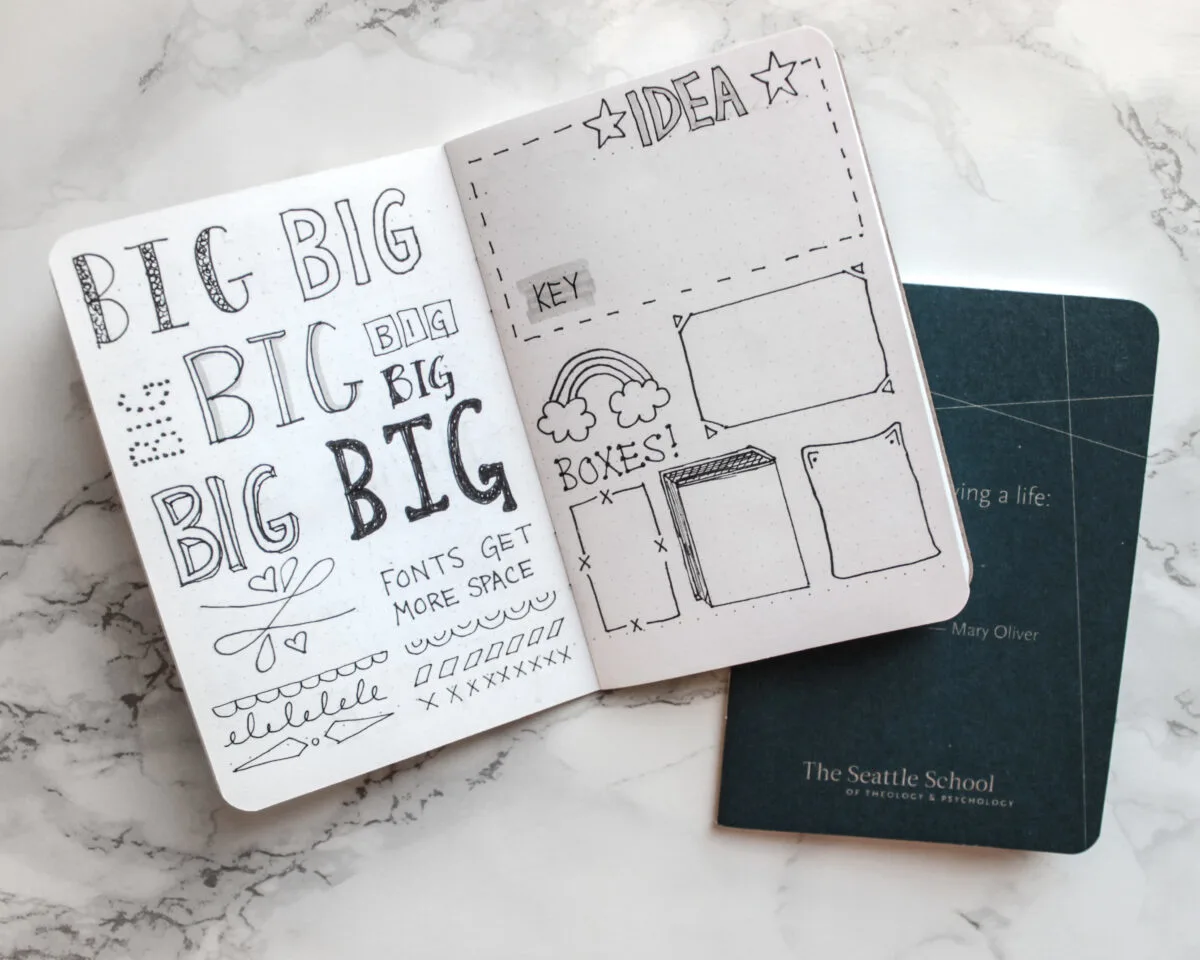 For many of us, the hardest part about bullet journaling is dealing with a blank page. Sometimes, a fresh page just looks too plain, and the bare page can make it difficult to get excited about filling up your journal.
Often, this blank page prompts a sort of artistic block, and it can be hard to know where to begin or what element to add to your journal next. One of the tricks I use to keep my creative flow going is maintaining a separate, tiny booklet of ideas: a bullet journal idea notebook. I fill this booklet with handlettered fonts styles, bullet journal accents, layout designs, and color pallets of my favorite combos of Copic markers. By using this BuJo idea notebook, I am able to keep my creative flow and always have a reference to turn to for ideas when I get stuck.
One good way to get your BuJo idea notebook started is by dedicating a spread to all the fonts that you can hand letter. My cheat sheet of easy to write handwritten fonts is a great starting point. Just download my printable and copy the fonts that work for you into your idea notebook for easy reference.
How to use Gray Highlighters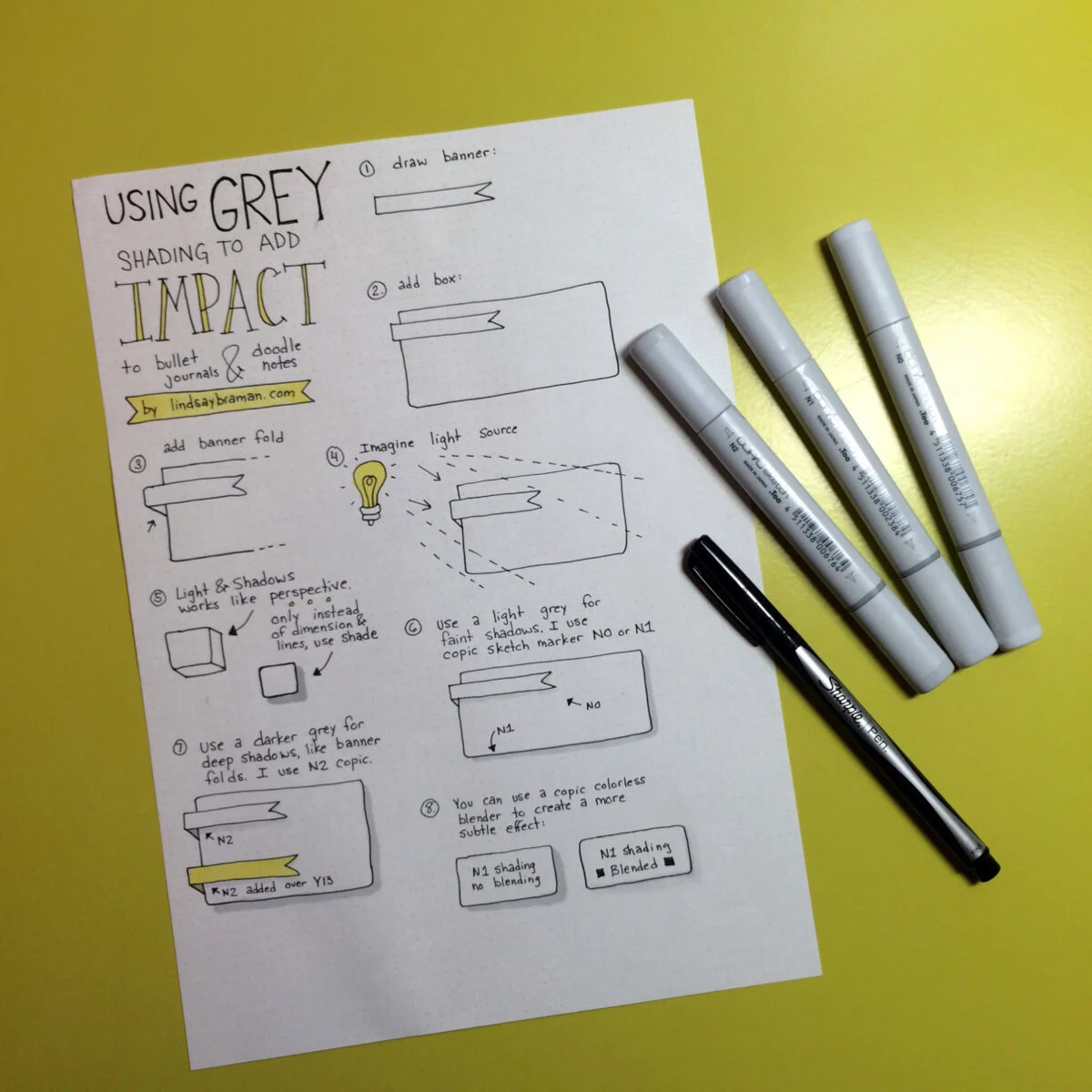 As I waffled between creating simple minimalist bullet journals and ornate "maximalist" style bullet journals, I found my approach settling somewhere in the middle. My style often features simple illustrated headers paired with basic elements that are elevated off the page with gray ink from a gray highlighter. This "lowlight" shading helps create really interesting layouts without making a page feel busy or overwhelming. As I practiced more and more using gray highlighters to create more dramatic pages in my journal, I created a step-by-step tutorial for learning how to add "drop shadows" to any bullet journal layout.
How to Make Outlined Headers Quickly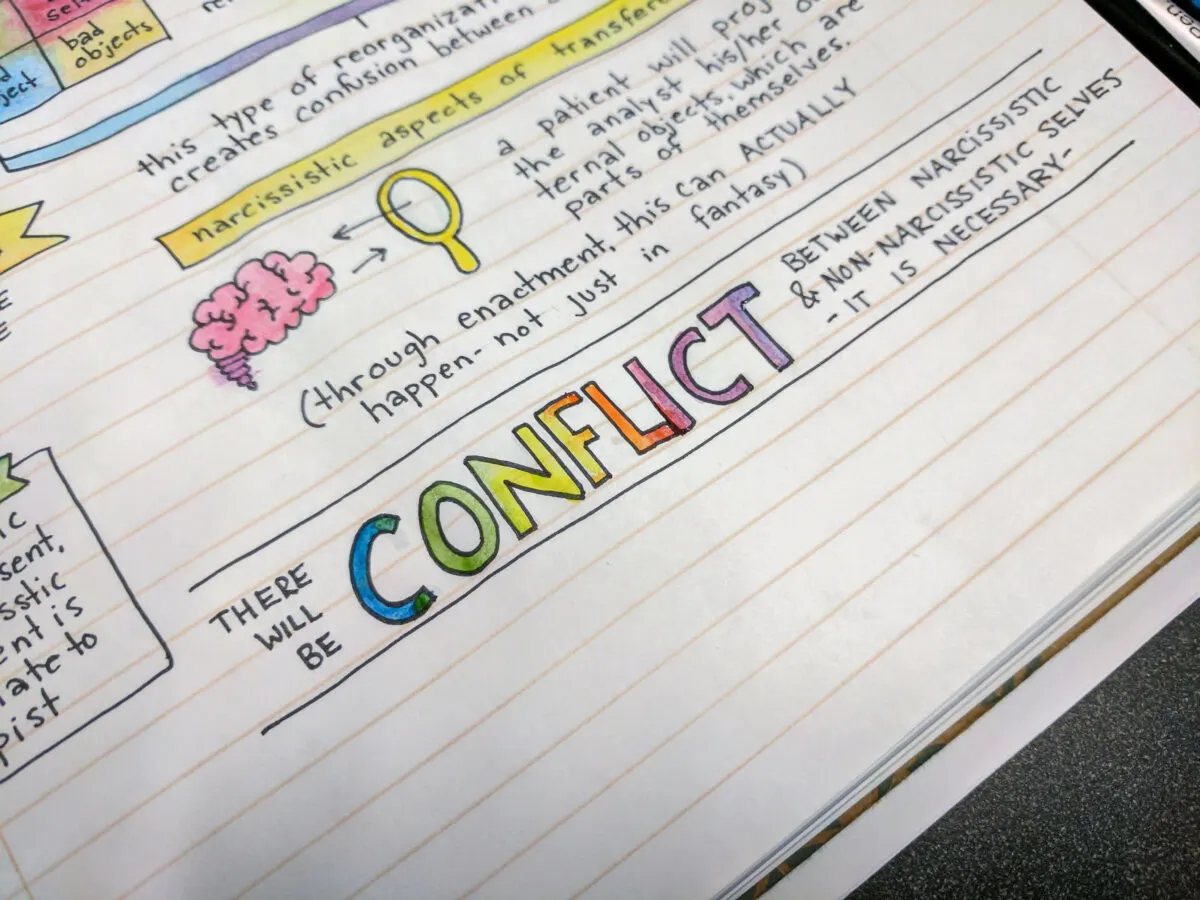 As my bullet journal layouts trended towards more minimalist designs, I still kept making page headers that were pretty or attention-grabbing. One of my favorite, fast ways to add a header to a bullet Journal page is by using these outlined letters. I used to spend forever carefully penciling, inking, and erasing but by using gray highlighters – or any color of very pale Copic marker– I learned to create perfect outlined headers in a fraction of the time it takes to plot, trace, and letter a traditional outlined page header. Click here for the illustrated step by step guide.
How to Draw Antlers in a Bullet Journal
Some of my favorite decorative elements for my bullet journal spreads and BuJo style classnotes are laurels and antlers. These simple doodles help to draw the eye to parts of the page that I wish to feature. Learning to draw both laurels and antlers was a challenge, but with practice, I've got an easy solution for both. Follow my simple instructions for making a laurel template or just download the practice sheet. Both are designed as resources to help you draw a perfect laurel in your bullet journal every time. Similarly, my instructions for drawing antlers uses a similar technique to make sure that your hand-drawn antlers turn out great every time.
Using Journal Skills in Class Projects
I was bullet journaling only a short time when I went back to school as an adult to get my master's degree. As I was back in the classroom, it wasn't unusual for an instructor to assign projects that involved creating handouts that summarized a paper or project to share with the class.
While most people in my class created basic outlines using a text editor, I realized the same ways that journaling helped me organize and understand my own life could help me create organized and visually impressive handouts for my class projects. You can read more about my method for creating a handout using this method in the article I wrote on this method, which I now, in my professional work, use with clients and customers.
Learning to Draw Bullet Journal Accents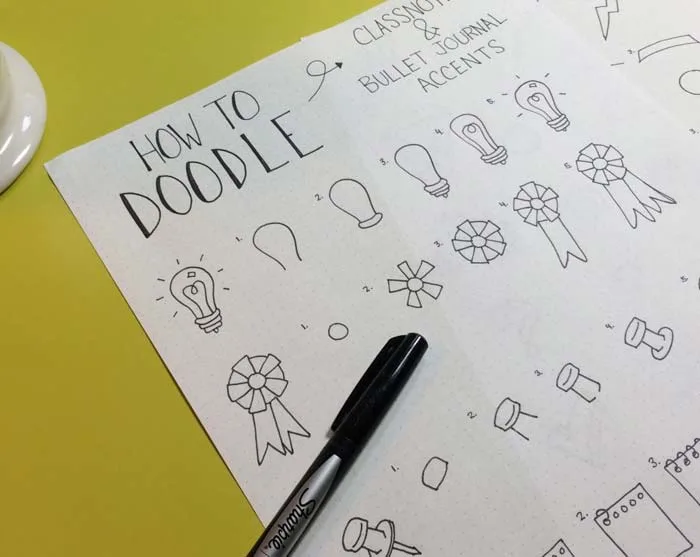 The more I used my bullet journal, the more I realized that I defaulted to the same simple doodles over and over. These simple drawings helped to draw attention to a certain point on the page or highlight important information – as a bonus, they just looked cute! Recently, I collated my favorites and created a step-by-step guide to how to draw icons and accents. Study my simple method and download the free guide to learn how to add cute, basic, hand-drawn elements to your BuJo- including tiny thumbtacks, miniature calendars, award ribbons, and more. There's even separate tutorials on how to draw a brain and how to draw a mother holding a baby.
Bullet Journalling in Class: Class Notes Upgraded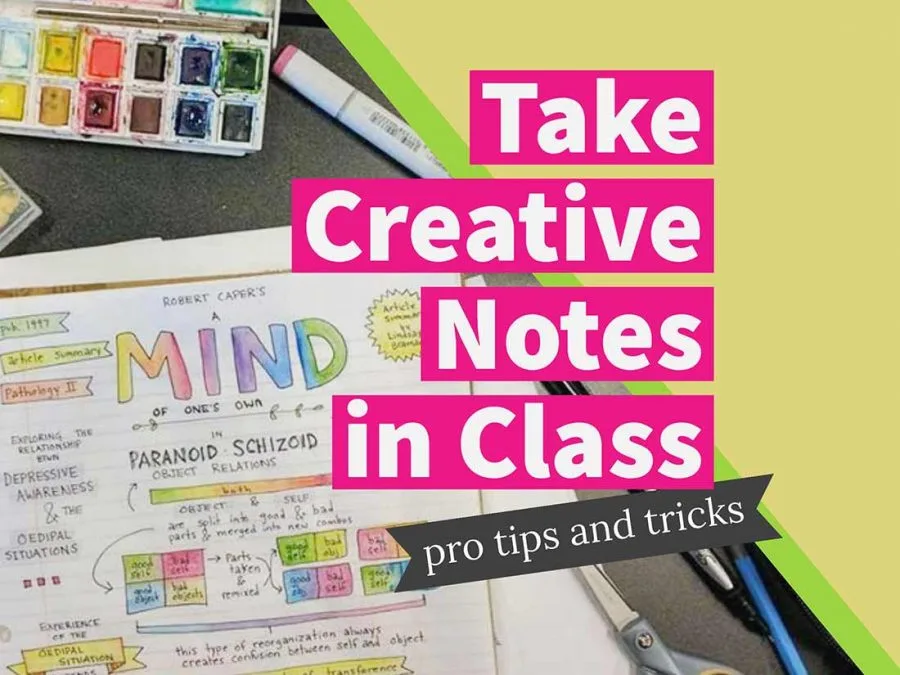 My foray into bullet journaling was timed perfectly for my return to school to get my master's degree. Even though most people took class notes on laptops, I read a compelling research study very early in my studies about the benefits of handwriting on memory 2. With this in mind, I chose to handwrite all my notes during graduate school (and, for the record, had a blast doing it and dramatically improved my recall and test scores).
By applying bullet journal skills to my in-class note-taking I was able to create notes that were easy to understand, easy to study, and – because they were very visual – easier to memorize for test prep. If you'd like to learn more about how to use basic bullet journaling skills to improve your in class note taking, check out my guide.
Alternative uses for Copic Art markers
Journaling was the gateway drug that introduced me to Copic art markers. Copic markers are a favorite supply of traditional illustrators but have exploded in popularity among serious journalers. Whether you have a huge collection of Copic markers or some perfectly suitable knockoffs, you may find that Copic markers are useful in more ways than you think. (Hint, they're one of my favorite ways to fix scratches in leather!) And if you need a little bit of help storing your Copic markers, highlighters, and bullet journaling pens, check out my guide to converting a vintage makeup case into a marker case, for a stylish and accessible way to organize journal supplies.
Budget Bullet Journaling Supplies
Sometimes, the biggest barrier for folks to get started in bullet journaling is gathering the right supplies. Many BuJo websites promote very expensive pens, markers, and notebooks. The good news is that you don't need to spend a fortune to gather the essential supplies needed to have fun and get organized with the bullet journal method. Whether you are creating journal spreads in a notebook or if you are using the bullet journal style of note-taking for class notes, you only need a few basic supplies to get started. Because I remember what it was like to be on a student budget learning to bullet Journal, I've compiled a list of affordable Bujo supplies to get you started.
Sources:
Sources
Ullrich, P. M., & Lutgendorf, S. K. (2002). Journaling about stressful events: Effects of cognitive processing and emotional expression. Annals of Behavioral Medicine, 24(3), 244-250. [↩]
Smoker, T. J., Murphy, C. E., & Rockwell, A. K. (2009, October). Comparing memory for handwriting versus typing. In Proceedings of the Human Factors and Ergonomics Society Annual Meeting (Vol. 53, No. 22, pp. 1744-1747). Sage CA: Los Angeles, CA: SAGE Publications.[↩]