As anyone who's ever lingered too long in a stationary aisle knows, it's easy to spend a fortune on paper, pens, and stationery products you'll never use. On the other hand, quality supplies can make a big difference in ease of use, the final result, and the experience of bullet journaling or note taking.
In other posts, I've outlined my bullet journaling and sketch note kit, and in this post, I've boiled it down to essentials that any student's budget can handle.
I've had a number of inquiries regarding my bullet journal supplies. So, it's time to write a blog article on my favorite journal necessities! But, before we begin, keep in mind that you may use any notebook or pen to keep your journal. The amazing thing about bullet journaling is that there are no rules. The notebooks and pens I discuss here are just those that I use and enjoy. Simply experiment with several brands to determine what works best for you!
The following section may contain affiliate links. As an Amazon Associate, we earn from qualifying purchases.
Budget Bullet Journaling Pens for 2022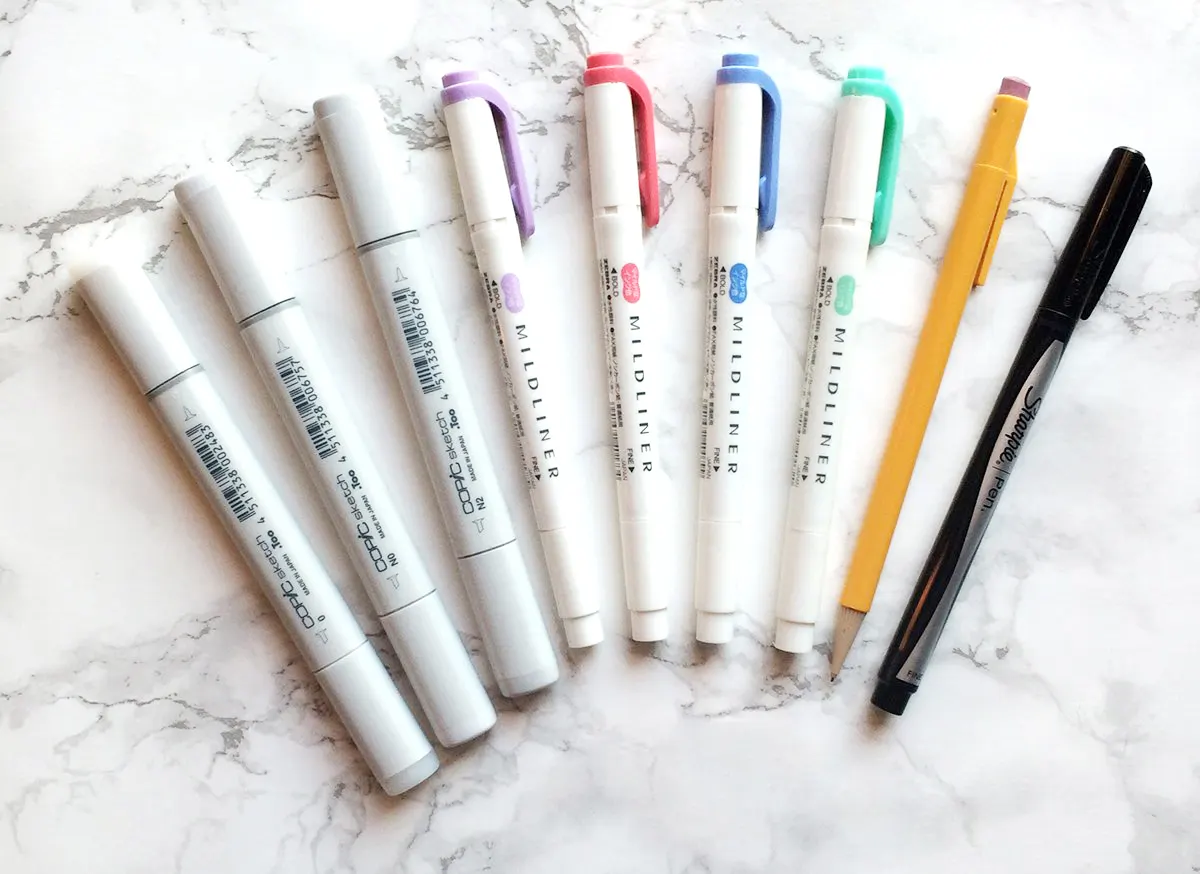 From left to right:
1. Copic Colorless Blender Marker

4-7. Zebra Mildliners Double-ended Mid-Tone "Highlighters"
Best pencil for bullet journaling on a budget
I like to use my Papermate Sharpwriter pencils to add color to my pages. I don't have many pencils, but I enjoy the colors. I draw the grid of my daily time tracker with pencils. (Papermate Sharpwriters are on my shopping list chopping block due to their extra wasteful use of plastic. Any suggestions for replacements? Drop me a comment below)
Best Notebook for Bullet Journaling on a Budget in 2022
The Leuchtturm1917 is my favorite notebook! I use the medium (A5) size with dot grid in the color black, as do many other bullet journalers. This notebook includes everything you need to start a Bullet Journal! The Leuchtturm1917 notebooks are stunning and come in every color of the rainbow. The paper is also of excellent quality. It isn't too thin, and it doesn't leak through (except sometimes, with Copic Markers, beware!)
I've previously owned a Moleskine notebook. I believe the Leuchtturm1917 notebooks are somewhat superior since the paper does not bleed, however, Moleskin's new art notebook claims to have paper formulated to minimize this. Another thing I like about harecover notebooks is that they have a sturdy cover. It makes the notebook considerably more durable, and if it becomes smudged, simply wipe it clean with a moist towel.

The best budget pen for bullet journaling:
I enjoy writing with multi-thickness pens. However, as you can see from my Bullet Journal images, I prefer to do color fills with markers. Often, markers can make blank ink smear, and the sharpie ens seems to be the more resistant to this.
So, after some research, I purchased a Sharpie Pen with a medium nib. I intended to purchase the pen with an extra-fine nib, however, Sharpie did not offer extra-fine nib pens when I was looking. I continue to use these pens as my bullet journaling and everyday go-to.
PITT Artist pens are my all-time favorite fineliners. They are available in a variety of colors and nib sizes (superfine, fine, medium and brush). I'm now using a black superfine and fine pen. And by black, I mean really, very black! Indian ink is used, and it is PH neutral, acid-free, and waterproof. Furthermore, the ink dries quickly and does not bleed through the paper! Even better, the Faber-Castell PITT Artist pens are extremely durable! When I initially started using my Bullet Journal, I purchased my first pair of pens. I'm still using the same pens, sometimes, years later! I'll update this article until one of my pens runs out of ink, which might be a long time!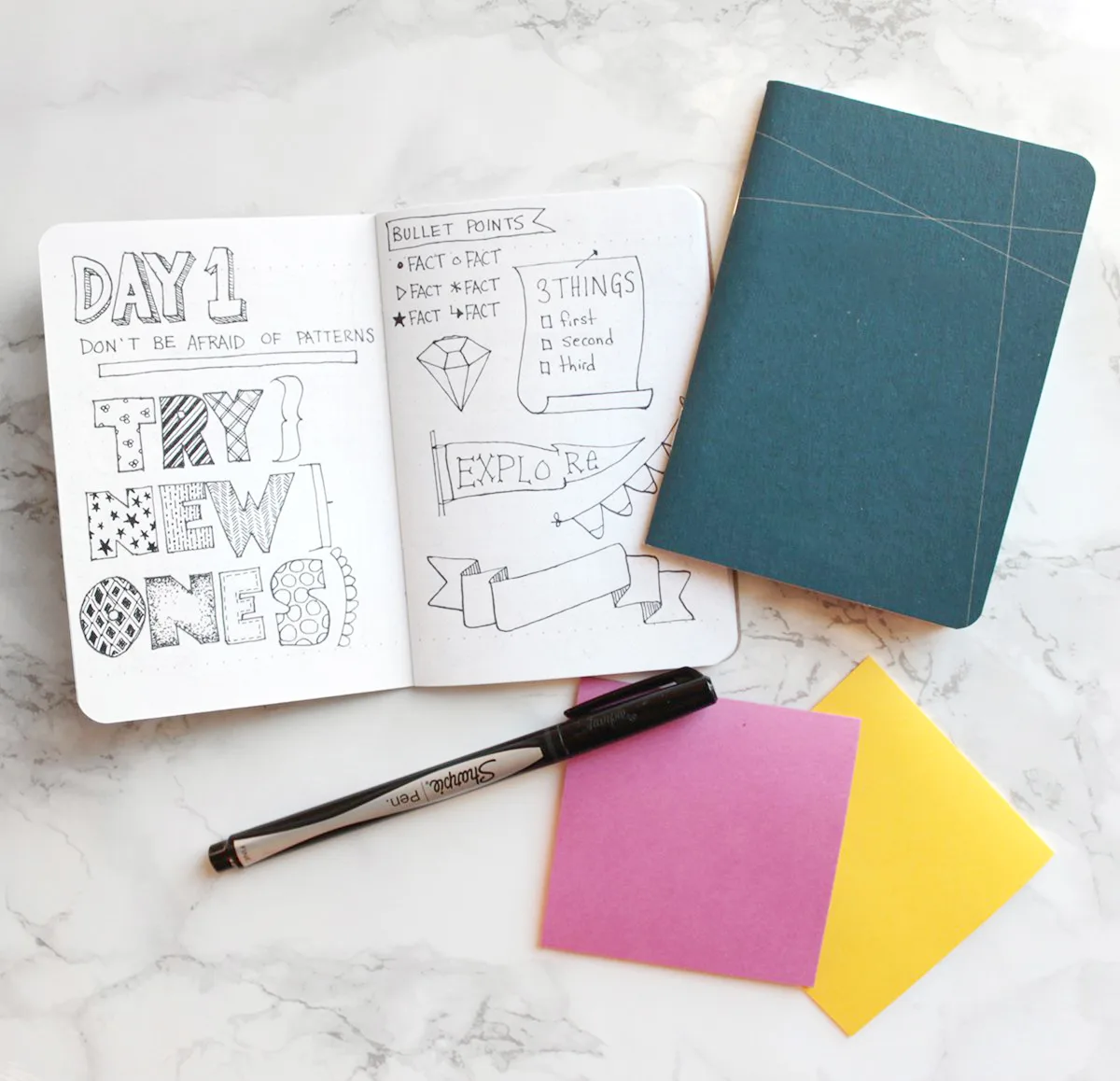 Budget Sketch Notes / Bullet Journaling Kit: OTHER SUPPLIES
Ruler for Making lines and grids
I don't always use a ruler but I always have one in my pen case. I usually use a ruler for making my time tracker at the top of my daily spread. This transparent plastic ruler is my favorite ruler. The sizing is ideal, neither too large nor too little. It is also translucent, making it simple to draw perpendicular lines.