Spring could have come and gone, yet it's no excuse to neglect your cleaning duties the whole year round. If you're finding it hard to stick to the chore, here's a cleaning tracker layout to help you log your housekeeping routines.
In this article, you'll find
As a busy person, I often struggle with sticking to a cleaning schedule due to poor time management and exhaustion from work. It took me a while to discover an efficient system that would work for me, and it's all thanks to my cleaning tracker layout. It saved me from habitually postponing my chores and my house from turning into a total mess. Hence, today's article is dedicated to sharing with you how I benefited from using this unique cleaning tracker.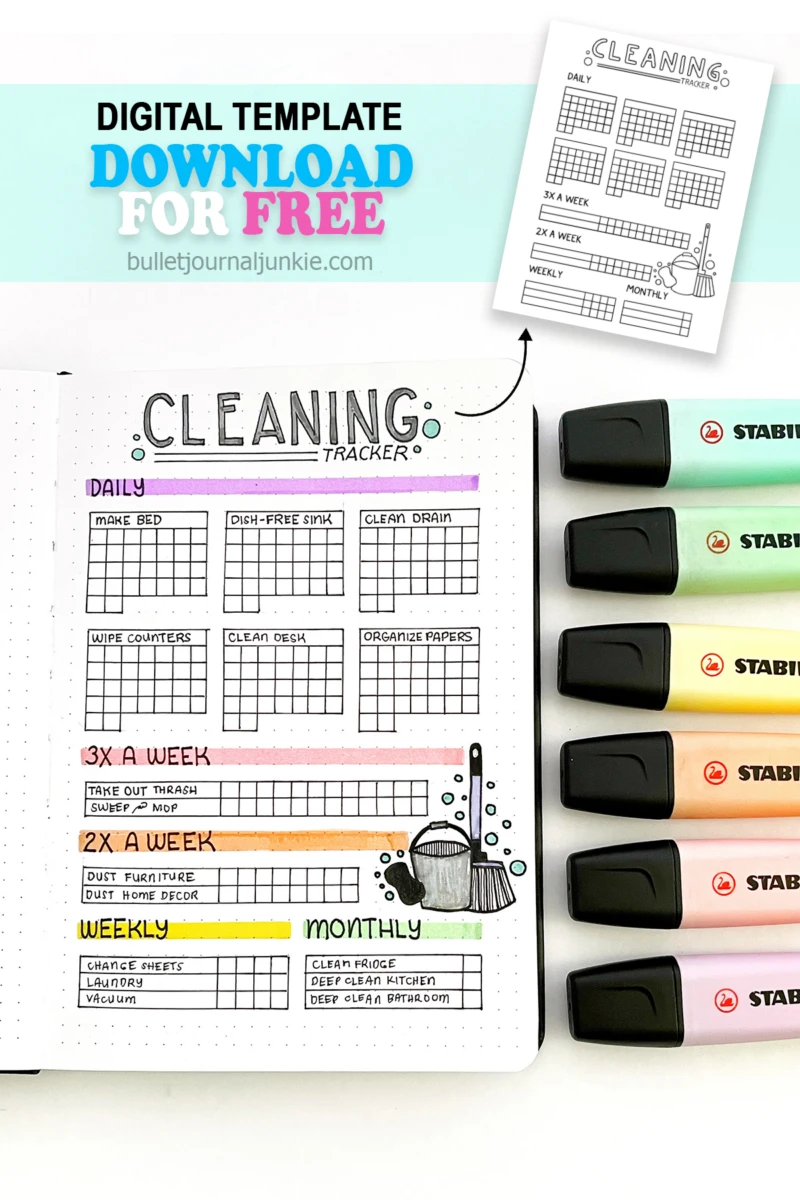 What Is A Cleaning Tracker Layout?
A cleaning tracker layout is a bullet journal spread dedicated to monitoring and reminding you of specific chores that you must regularly attend to. Instead of overwhelming you with a list of housekeeping to-dos, it breaks down the tasks into manageable chunks that you can squeeze into your schedule.
While the name of this layout suggests only "cleaning", this layout can also be used for logging chores relevant to keeping your home spick and span such as making the bed, doing the laundry, and de-clogging the drain. As some chores require routine management, a cleaning tracker can also monitor how often you perform those tasks on a daily, bi-weekly, weekly, or monthly basis.
This layout includes calendar-type trackers that record the frequency required for each housekeeping task. To log your finished chores, you need to shade the "cubes" equivalent to the number of times you have completed the same tasks over a specified period.
How The Cleaning Tracker Monitors Your Household Chores
A cleaning tracker layout helps you manage your household chores using a monitoring system that allows enough leeway for each task to be fully accomplished within a specific timeframe. This, in turn, will leave you more productive but less worked up, especially if you can't do the chores all at once.
In a study conducted on married couples, it is said that splitting chores can help lower stress hormones after office work ((Graesch, P. 2011. Time Spent in Housework and Leisure: Links With Parents' Physiological Recovery From Work). But whether or not you have someone to share the housework with, you need an effective schedule of tasks that doesn't leave you exhausted and unable to move on to other more important activities. This is achievable through an efficient cleaning log.
A cleaning tracker layout can also motivate you to stick to your housekeeping habits. By seeing the progress you've made towards the final leg of the chores, you'll get the satisfaction of being able to run the house like a true homemaker. It will similarly remind you of the pending tasks so you'll know whether to free more time in your schedule or complete the tasks in advance.
Download This Free Printable Cleaning Tracker Layout
While making the cleaning tracker layout is much less daunting than a household chore, it can be time-consuming to create from scratch. To save you the hassle, here's a printable PDF of a cleaning tracker layout so you can start logging your chores as soon as you put down your broom and mop.
Download My Printable Cleaning Tracker
How To Make A Cleaning Tracker Layout in Your Journal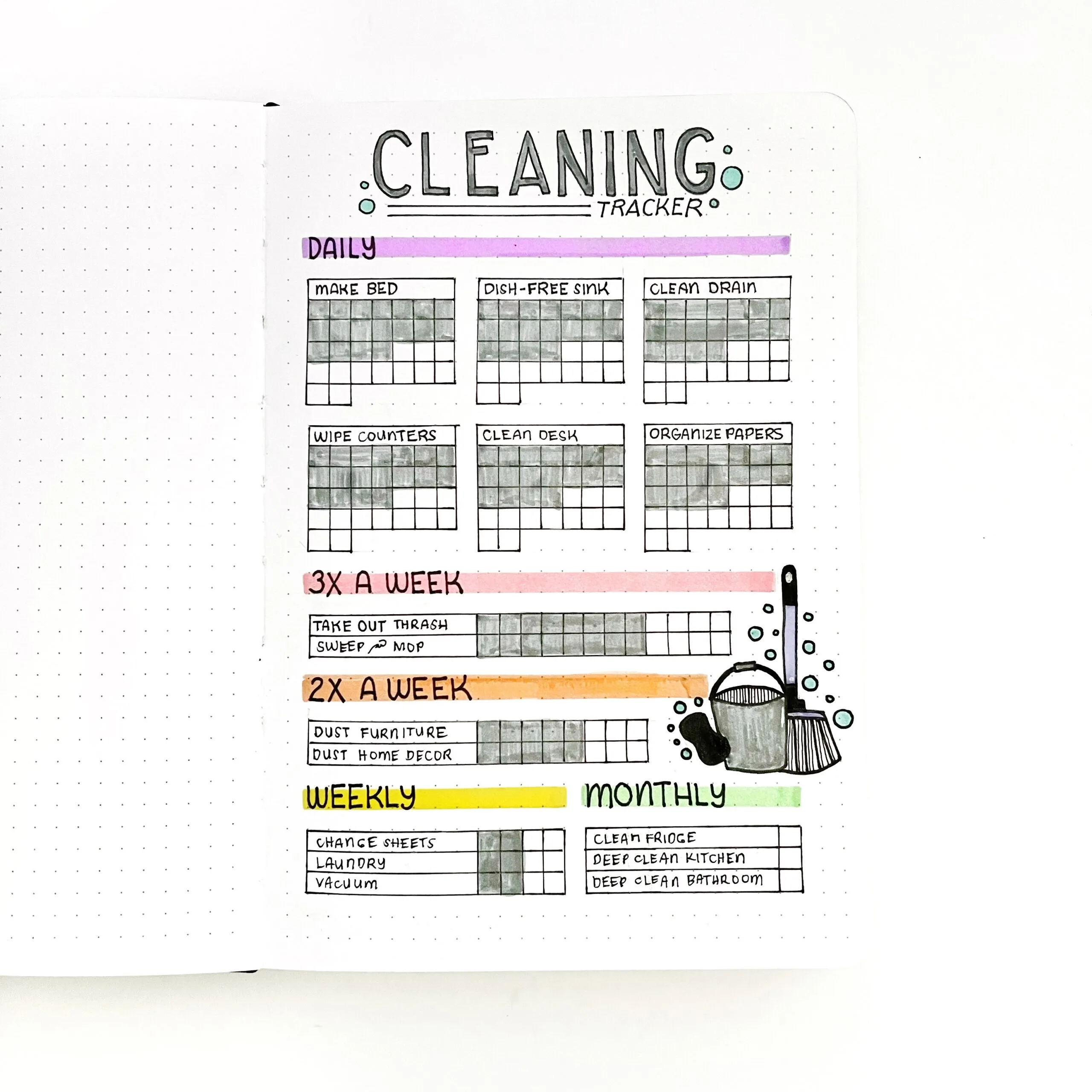 How To Make A Cleaning Tracker Layout in Your Journal
Total time: 15 minutes
Draw the outline of the trackers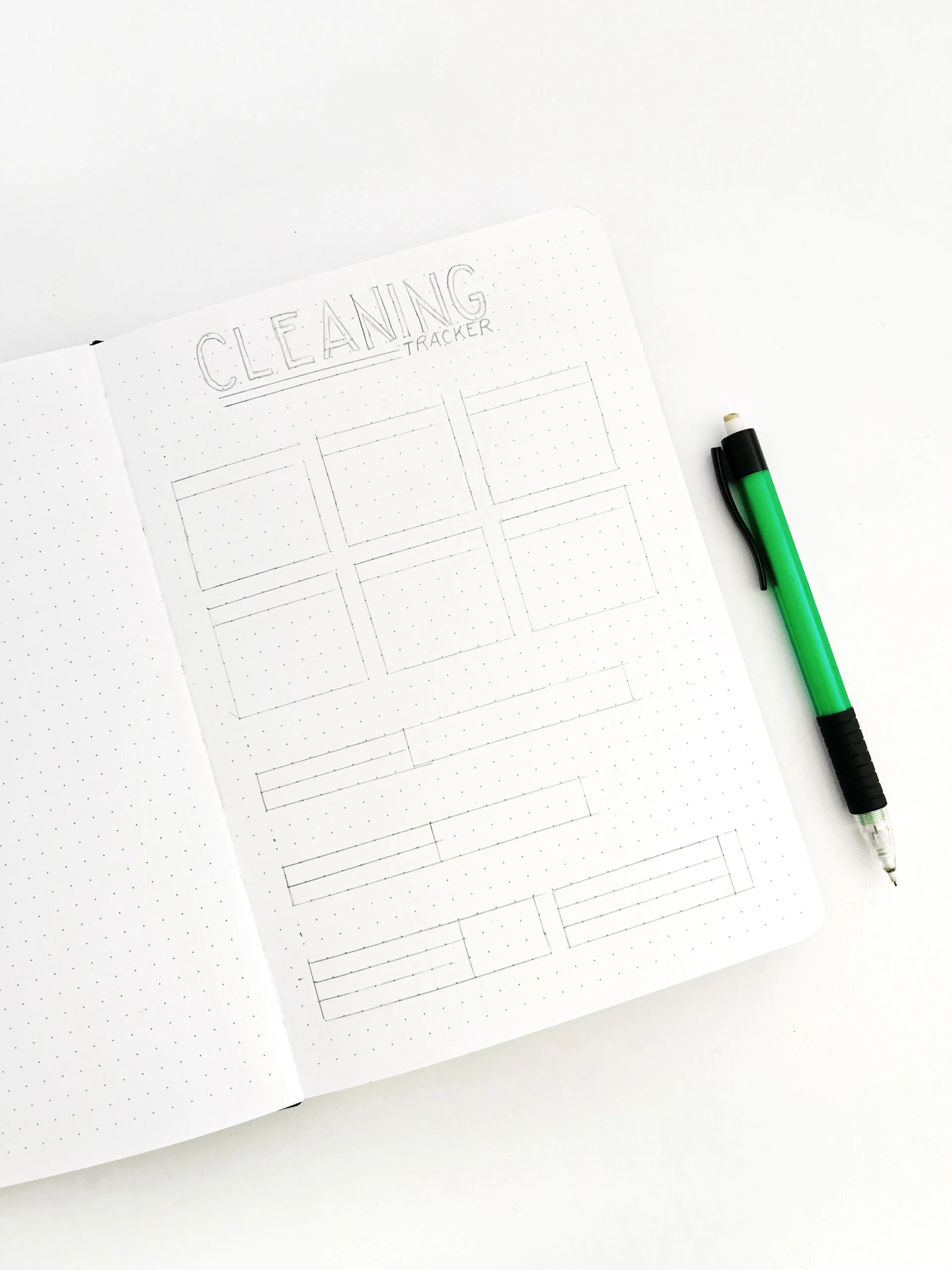 Using a pencil, draw patterns of six rectangular boxes to be used as 30-day trackers for chores requiring daily completion. These can be dedicated to making your bed, dishwashing, de-clogging the drain, wiping the kitchen sink, cleaning your desk, and organizing paper trail.
As for the three-times-a-week and bi-weekly trackers, draw a horizontal bar consisting of about 12 cubes right below the daily trackers.
Weekly trackers should have four cubes equivalent to four weeks in a month. For the monthly chores such as defrosting the refrigerator, kitchen deep-cleaning, and bathroom sanitation, you can simply add a single cube next to their labels for one-time task completion.
Indicate the frequency required for each tracker
Above each tracker you've drawn, make sure to indicate the number of times you're required to do the chores. For the daily chores, indicate "Daily", "2x a Week" for bi-weekly, and so on.
Title each chore
Don't be shy about having to put specific chores in writing. If you've been meaning to de-clog the sink twice a week, indicate it in the title of the chore. Make sure that each task is assigned a specific frequency to avoid mistakenly repeating the same chores within the day or week.
Log your finished chores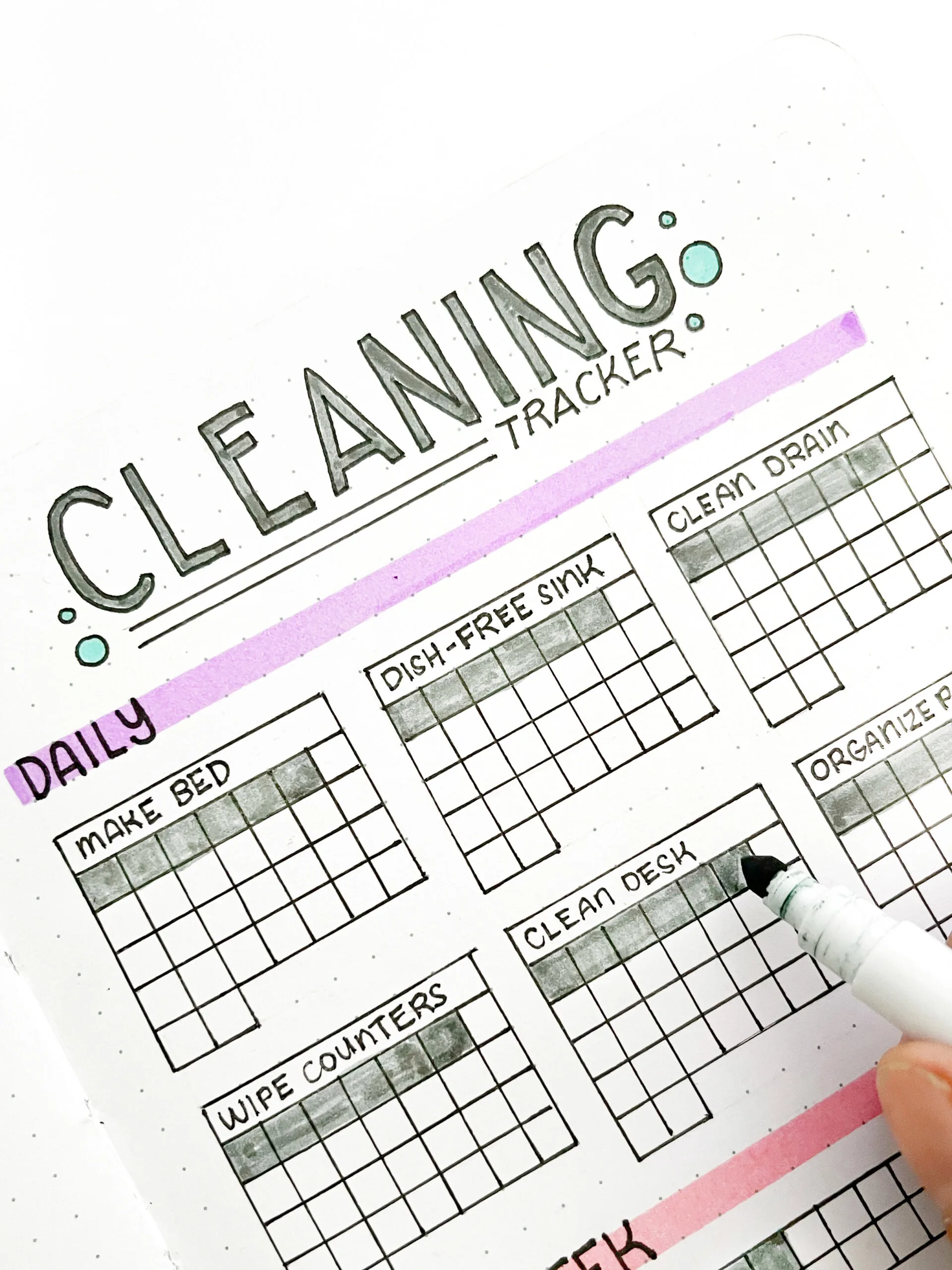 Simply shade the cube corresponding to the number of times you've completed the same task as required by your trackers. You can use a pencil or a permanent marker to mark the days or times you've performed the chores.
Supply:
Notebook
Pen
Ruler
Marker
Pencil
Variations for Cleaning Tracker Bullet Journal Layout
The cleaning tracker layout I've come up with works wonders for my productivity and home organization, so I hope it does the same for you. Other variations of this layout that I've seen on the internet include using label-size Post-it notes, which you can stick and remove as you go about tackling your chores. This is a good idea if you don't want to redo another cleaning tracker layout for the rest of the year.
Another variation is the categorized boxes dedicated to specific areas of the house that need cleaning. For this layout, a single cube is added next to the chore titles and placed inside the box according to their room categories. For instance, one box is dedicated to living room cleaning, and under it are chores such as "dusting decors", "wiping mirror", and "vacuuming the sofa". You just need to shade the cube next to these chores to indicate completion.
When The Cleaning Tracker Layout Might Be Most Helpful
This cleaning tracker layout might be most helpful when you're living independently, away from family or friends who can offer a helping hand in housekeeping. It's especially useful, too, if you have a busy work schedule or have a huge house to yourself. With the help of a cleaning tracker, you can easily monitor which areas need your attention and how often you need to keep them clean.
Final Thoughts On Using A Cleaning Tracker Layout in 2022
The cleaning tracker layout is still popular among bullet journalers in 2022, as it beats the digital reminders in motivating commitment to household chores. In this article, you have learned how to use a cleaning tracker for monitoring your household chores, as well as how to create variations of this layout to match your bullet journal aesthetics.
Image Description for Screen Readers
The image shows a journal notebook opened to a page entitled "Cleaning Tracker". Next to it is a vertical row of Stabilo Boss highlighter pens in light blue, green, yellow, orange, pink, and purple.
The page features a series of chore trackers entitled "Daily", "3x A Week", "2x A Week", "Weekly", and "Monthly".
Under the "Daily" tracker are six calendar-type boxes. The first calendar is labeled "Make Bed", the second is "Dish-free Sink", the third is "Clean Drain", the fourth is "Wipe Counters", the fifth is "Clean Desk", and the sixth is "Organize Papers".
Under the "3x a Week", the trackers are labeled as "Take Out Trash" and "Sweep & Mop".
Under the "2x a Week", the trackers are labeled as "Dust Furniture" and "Dust Home Decor".
Under the "Weekly", the trackers are labeled as "Change Sheets", "Laundry", and "Vacuum".
Under the "Monthly", the trackers are labeled as "Clean Fridge", "Deep Clean Kitchen", and "Deep Clean Bathroom".
On the lower right corner of the page, just above the "Monthly" tracker, is an illustration of a soap, a pail, and a mop, decorated with bubbles and shaded with a pencil.