"Where do you see yourself in five years?" is a job interview question that I also find applicable to goal setting. Surely you have goals you want to keep working on until they are ripe for realization. Today, I'm going to show you a goal-setting tool called the 5-Year Plan layout, which helps you project your desired future until it materializes and become your reality.
In this article, I'll show you:
Practically everyone during our childhood has been asked what we want to become or do in the future. I've never really given mine much thought before as I believed it's too early to make plans. However, I discovered that mapping out my future can help align my goals and actually manifest my intentions. In fact, seeing my 5-Year Plan crossed out on my list makes me feel proud and accomplished, and I want to tell you how I did it!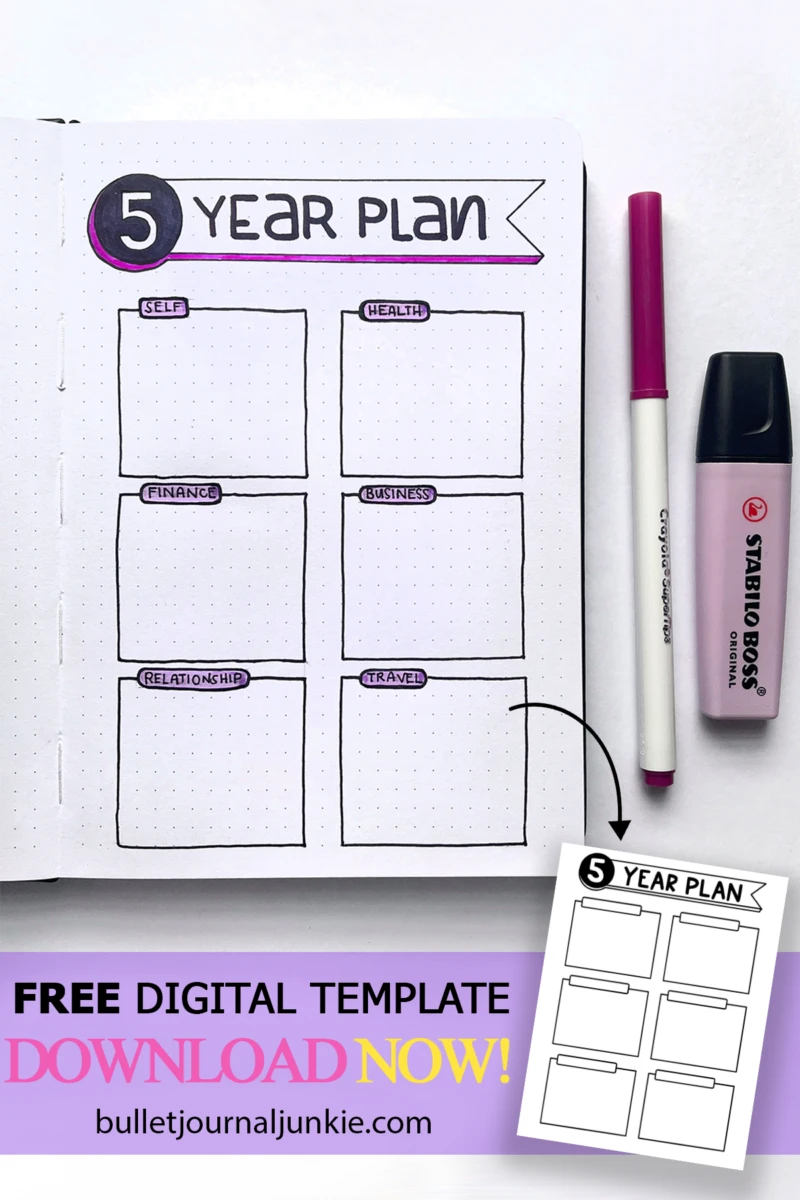 What Is A 5-Year Plan Layout?
A 5-Year Plan Layout is a list of goals you wish to achieve within the next five years. The idea is to project your future self finally getting to where you want to be in different areas of your life. It is where all your efforts in keeping relevant habits should lead you to.
What makes this bullet journal layout different from habits tracker and to-do lists is its focus on the bigger picture. Instead of going into details of how you would achieve your goals, you'll only need to indicate the end result you have in mind. It's simply "owning a car" instead of "working another side gig" or "saving up 60% of my allowance" towards it.
The 5-Year Plan layout is designed to be straightforward; meaning, you don't need to include trackers or reminders to use it. What it does is simply give you an overview of the final outcome of your habits and monthly output.
How the 5-Year Plan Layout Helps in Long-Term Goal Commitment
Unlike habit trackers and monthly to-do lists, the 5-Year Plan Layout gives you a summary of what you intend to achieve in the long haul. This eliminates the distractions and overwhelming pressure to keep up with the things that will help you get there.
Although this bullet journal layout doesn't use trackers for accountability, it can help you in projecting your future self. In some ways, it serves as a manifestation tool. Imagery, which is an essential part of the 5-Year Plan layout, helps enhance your performance towards the goal by richly imagining your success. 1.
The lack of progress bars here serves an important purpose. The 5-Year Plan layout is meant to give you goal clarity that lets you know what exactly you're aiming and working hard for. According to a study, being specific about your goals increases your motivation to succeed at them 2.
By viewing your goals at a glance, you'll avoid getting burned out and instead be reminded of the final results you're expecting by the end of the fifth year. Leave out the rest to your habit trackers and to-dos and you'll surely breeze through your five-year goals.
Download This Free Printable 5-Year Plan Layout
If you're clueless as to how you can draw a 5-Year Plan in your bullet journal, a printable PDF of this layout can help you start right away. This will save you from scrapping your journal page due to messy erasures and eliminate permanent marker mistakes.
Download My Five Year Plan Layout
How to make a 5-Year Plan Layout in Your Journal
To make a 5 Year Plan layout from scratch, here's a step-by-step procedure for a no-fuss goal setting:
How To Make A 5-Year Plan Layout In Your Journal
Total time: 15 minutes
Draw Boxes To Categorize Goals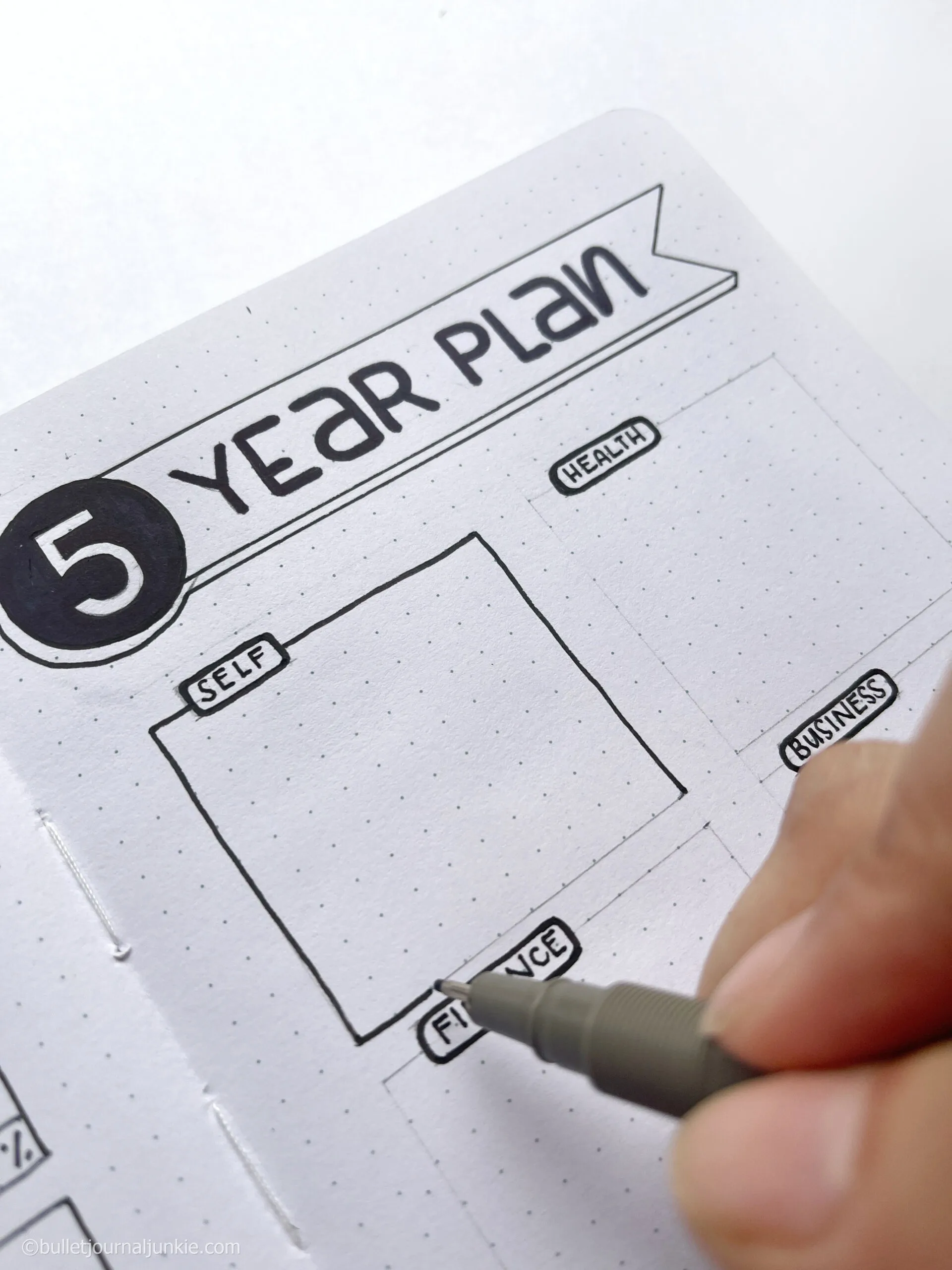 Using a ruler and a pencil, make traceable patterns of six boxes with equal dimensions. Depending on your bullet journal orientation, you can add more boxes representing your goals for each area of your life.
Once the boxes are traced, use a ballpoint pen to make them permanent. Erase the pencil trace after you've lined the boxes in ink.
Label Each Goal Category
Write your goals under the categories related to a particular area in your life such as career, self-development, finances, and relationships. Make sure that the goals you'll write are aligned with these areas to make them easier to tackle and review later.
For my 5-Year Plan layout, I labeled my goal boxes as "Self", "Health", "Finance", "Business", "Relationship", and "Travel". Having my goals sorted out this way helps me see if all areas in my life are aligned with my projected future. I suggest that you limit your categories to the essential life aspects so you won't go off-track.
Decorate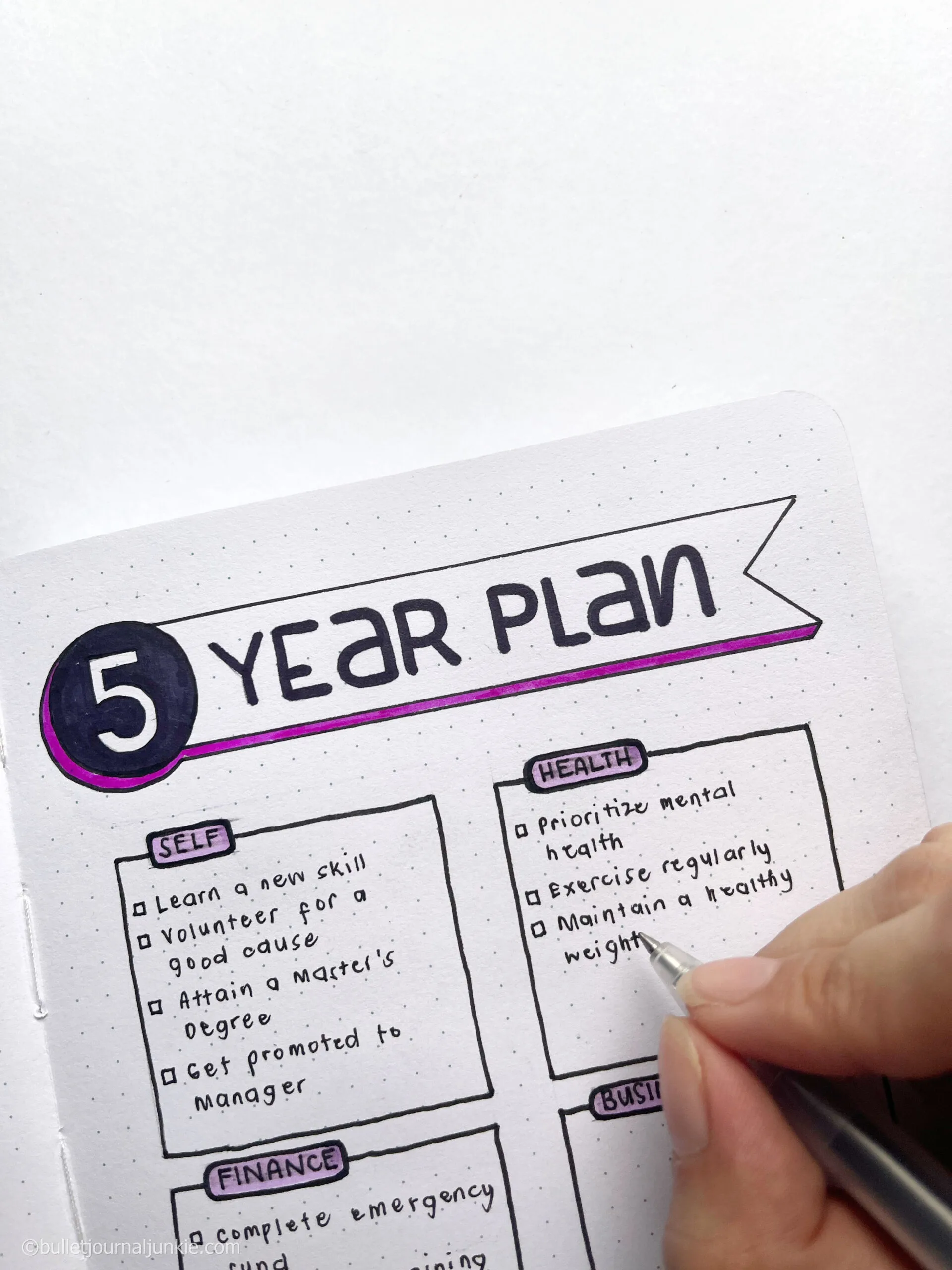 Add a banner on top of the page and title it "5-Year Plan" so it stands out from the rest of your goal trackers in your bullet journal.
You can use stickers or draw icons that will make it easier to review your goals from time to time. For example, you can draw a suitcase to indicate the category dedicated to travel goals, a finger heart to indicate relationship goals, and so on.
Add a dash of color to your 5-Year Plan layout using colored pens and highlighters. Doing so will not only complement your bujo aesthetics but also increase your recall of specific goals through their visuals.
Supply:
Notebook
Pen
Ruler
Marker
pencil
Variations for 5-Year Plan Bullet Journal Layout
This 5-Year Plan layout already has the necessary visuals you'll need for writing your goals in the next five years. But if you want to be one step ahead of the race, using progress trackers will do the trick. The only thing to keep in mind is to honestly assess where you're at in your journey toward your goal attainment.
I've also seen some bullet journal layouts for the 5-Year Plan where you section your goals per year. This is recommended if you're aiming to achieve something at specific timeframes. For instance, by the second year, you hope to be married already; by the third year, you should have visited France or started your own business, and so on.
Where in Your Journal Should You Place 5-Year Plan Layout?
I suggest that you place your 5-Year Plan layout on the first few pages of your bullet journal. This will serve as your guide map for the rest of your to-dos and habit-building for the next five years. You may need to do it over for every year's new bullet journal or until your current bujo pages have been exhausted.
Final Thoughts on Using 5-Year Plan Layout in 2022
The 5-Year Plan layout is still applicable for bullet journalers in 2022 and even far into the future because it makes you accountable for the next few years. In this article, you have learned how to use the 5-Year Plan layout for projecting your future self, how it helps in achieving long-term goals, and how to personalize your bullet journal spread with design variations.
Image Description for Screen Readers
The image shows a dotted grid journal notebook. On its right is a Fuschia-colored Crayola pen and a purple Stabilo highlighter pen.
The journal page is entitled "5 Year Plan" written inside a banner. The outer edge of the banner is shaded in purple and made to look like a 3D.
Below the title are six boxes stacked in two columns. The labels for each box are written as "Self", "Health", "Finance", "Business", "Relationship", and "Travel".
Sources
Blankert, T. 2017. Imagining Success: Multiple Achievement Goals and the Effectiveness of Imagery[↩]