Break bad habits and replace them with good ones using this bullet journal habit tracker- free for download!
Many people develop habits unconsciously, especially the ones we don't want! But what if we could track and intentionally develop positive habits like exercising and household chores? Today, I'm going to show you how using a habit tracker layout in your bullet journal can help you develop healthy habits.
In this article, you'll find:
A few years back, I used to have the habit of doing yoga and jogging around my neighborhood in the mornings. When the pandemic happened, I found myself demotivated and nearly abandoned my fitness goals. Thankfully, I got my drive back when I started using a habit tracker in my bullet journal. This tool can help you to turn your positive habits into a lifestyle and ultimately reach your goals.
What a Habit Tracker Layout is All About
A habit tracker is a bullet journal staple that helps you monitor your usual routine or activity- and change it! It gives you a visual illustration of how you're doing at developing healthy habits- or breaking bad habits. Habit trackers are especially useful if the activity tracked is something you'd like to keep at.
Unlike written logs of daily accomplished activities, a habit tracker layout is designed to eliminate the hassle of recording them. By simply shading or marking off the days in the premade calendar, you can log how many days you've committed to the habits. The resulting image will then give you an idea if you've made a progress, are being forgetful, or totally slacking off.
Habit trackers are a way of keeping us accountable by inviting us to see, visually, our progress or lack thereof.
Why You Should Use A Habit Tracker Layout
A habit tracker is more than just a record of your routines. For one, it helps you with accountability. For instance, missing a yoga day might not be a big deal, but once you reviewed your tracker at the end of the and realized you had not attended for a month, you'd know it was time to re-evaluate that goal.
Habit trackers also help you achieve your goals 1. Breaking down ambitions into smaller habits will make it easier for you to reach your goal.
A habit tracker layout can also motivate you further in becoming a better version of yourself. Seeing your progress through the tracker bars or a blacked-out calendar might u Help develop the confidence to tackle even bigger load goals. A habit tracker serves the dual purpose of monitoring your commitment and pushing you outside your comfort zone.
Finally, a habit tracker is a perfect tool for assessing your self-development. It can give you a quick overview of the habits you've kept and how you've performed so far. You'd be surprised at how much work you've actually put in once you finished logging your habits.
Download This Free Printable Habit Tracker Layout
For many busy bullet journalers, it helps a lot to have a ready-made layout to start logging activities. If you download our printable, you won't have to draw grids with a ruler or decorate the charts! You can simply download this free printable PDF of the habit tracker layout to save time.
Download My Habit Tracker Layout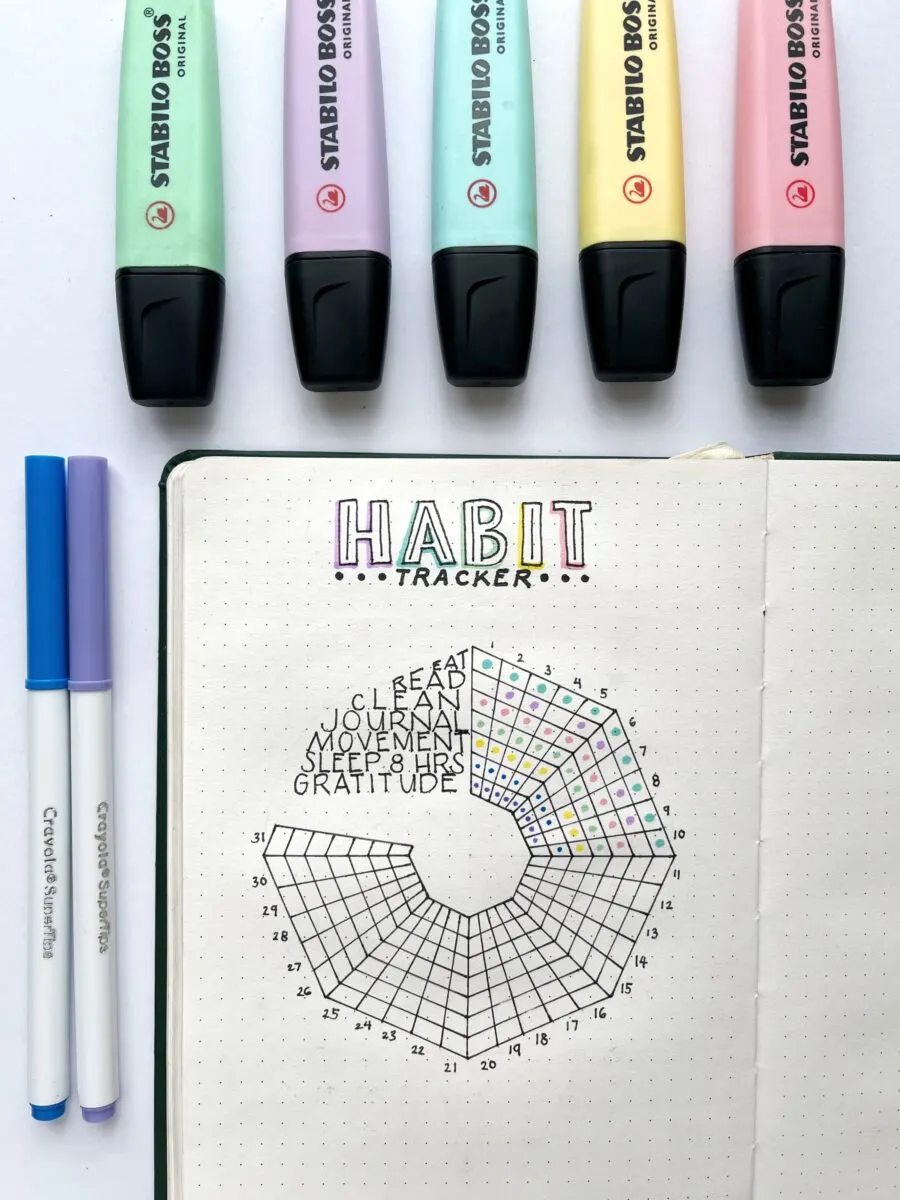 How to Use A Habit Tracker Layout in Your Journal
To make a habit tracker layout from scratch, here's a step-by-step guide.
How to Make a Habit Tracker Layout in Your Journal
Total Time 15 minutes
Draw a Circle on the Page
This could be an octagon as shown or a table with cells dedicated to up to 31 days of a month. Depending on the dimensions of your bullet journal, you may stretch up the table either horizontally or vertically to fit the number of days. Indicate on top of each cell the corresponding date.
Divide the Circle into Sections
In my example, I optimized the journal page by drawing an octagonal-shaped calendar resembling a "web". I multiplied the cells to seven trackable habits such as regular eating, reading, practicing gratitude, and even completing a full eight hours of sleep.
Label the tracker
Indicate in the title the kind of habit or activity you want to track for the next 30 or 31 days.You can use a single monthly calendar to accommodate 5-7 trackable habits. Simply separate each cell dedicated to each habit to avoid mixing them up in the table.
Decorate and Complete your Habit Tracker Layout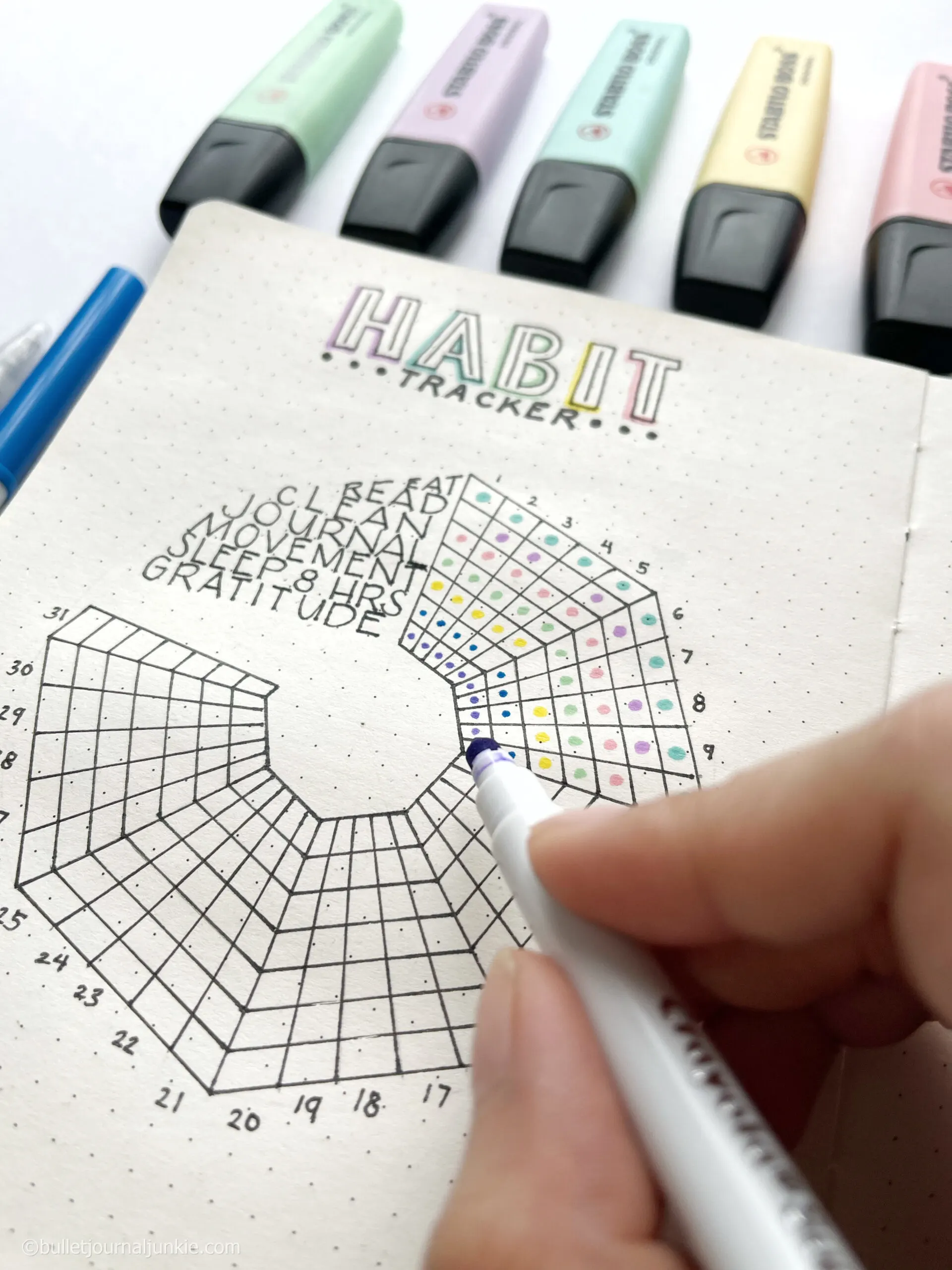 Once your layout is drawn and labeled, you can begin decorating the design. If you want, you can use stickers or bullet journal icons to help make logging easier. For instance, for a water intake tracker, you may use stickers like a glass of water, or you could draw them yourself.
Supply:
Pen
Pencil
Bullet Journal
Colored Pencils or Markers
The following section may contain affiliate links. As an Amazon Associate, we earn from qualifying purchases.
Stickers: A Habit Tracker Shortcut
Remember the thrill of being a kid with a fresh sheet of stickers? Recapture the magic by creating habit trackers designed for use with stickers. You can buy awesome sticker packs designed just for tracking habits (like these on Amazon, or this adorable pack from a small business on Etsy) or print your own. By combining bullet journal icon doodles with one of the best printers for stickers, you'll be off an running on custom bullet journal stickers.
Variations for Habit Tracker Bullet Journal Layout
Most of the habit tracker layouts I find on the internet share the calendar-type format. Regardless of which particular activities are being monitored, this format can help you see a pattern instantly as it summarizes how you performed throughout the month. Color-shading or crossed-out squares are popular choices for this tracker format.
Bullet Journalers are being a lot more creative these days than when I first started. Now I often see some habit trackers that incorporate more elaborate diagrams. For instance, some water intake trackers now use a drawing of an empty glass, with increasing levels specifying the amount of water you drank for the day (though mine uses a new water tracking template that includes the ability to track sodas ad coffee).
Bookworms who have a goal of reaching a specified number of finished books also have a different habit tracker approach. For this reading-specific tracker, journalers draw a horizontal shelf resembling a bar. Each book on the shelf represents one or two books that they've finished reading, which they can shade with their preferred colored highlighters.
If the habit you are tracking relates to growing a relationship, you can even use a bullet journal page to track relational habits like deep conversations, face time, and making time to share experiences.
Who Can Use the Habits Tracker Layout
This layout is perfect for people who are into goal-setting or working on lifestyle changes like being in recovery from an illness or addiction. The habit tracker layout can be used to measure the progress toward specific goals as they relate to habit formation. You can even use it to track attendance at 12-step meetings, support groups, classes, or appointments.
When the Habit Tracker Layout Might Be Most Helpful
A habit tracker layout is most helpful when we feel overwhelmed by habits we're not managing well e. Since his layout monitors your progress, it can help us set new routines and stay faithful even through summer vacation or other disruptive life events.
How Often to Use Habit Tracker Layout in a Journal
Use your habits tracker as often as needed, although most layouts will only require you to log your activity daily. (staying hydrated and vocabulary practice may require more frequent logging).
Final Thoughts on Using Habits Tracker Layout in 2022
Using a habit tracker layout in your bullet journal is still a good idea in 2022, especially as our lives are adapting to a busy pace post-isolation.
In this article, you have learned how to use a habits tracker for tracking your activities and some tricks for variations of this habit tracker bullet journal spread.
Image Description for Screen Readers

The image shows a journal notebook page entitled "Habit Tracker". Below the title is an octagonal-shaped calendar with 31-day cells. Next to the cells are vertically-aligned labels indicating habits in this order: Eat, Read, Clean, Journal, Movement, Sleep 8 Hrs, and Gratitude.
Each cell next to the habits is shaded with color up to the tenth day. The color shade for Eat is light blue, Read uses purple, Clean uses pink, Journal uses Green, Movement uses yellow, Sleep 8 Hrs uses navy blue, and Gratitude uses dark violet.
Outside the calendar next to the cells are calendar dates labeled up to 31 clockwise.
The journal notebook is surrounded by Stabilo Boss highlighter pens on the top, while two Crayola Supertips are located on the left.
I've previously owned a Moleskine notebook. I believe the Leuchtturm1917 notebooks are somewhat superior since the paper does not bleed, however, Moleskin's new art notebook claims to have paper formulated to minimize this. Another thing I like about harecover notebooks is that they have a sturdy cover. It makes the notebook considerably more durable, and if it becomes smudged, simply wipe it clean with a moist towel.
I've previously owned a Moleskine notebook. I believe the Leuchtturm1917 notebooks are somewhat superior since the paper does not bleed, however, Moleskin's new art notebook claims to have paper formulated to minimize this. Another thing I like about harecover notebooks is that they have a sturdy cover. It makes the notebook considerably more durable, and if it becomes smudged, simply wipe it clean with a moist towel.
Sources
Nawaz, S. 2020. Harvard Business Review [↩]