Birthdays always call for a celebration and sweet gestures. And what better way to keep track of these special days than with a birthday tracker layout, right? Today, you'll learn how this bullet journal spread can help you plan ahead for birthdays, either as a family tradition or with an element of surprise.
In this article, you'll find:
As a busy person, I used to miss a lot of important birthdays. It made me feel bad about being forgetful, especially when I promised my loved ones a gift and my presence on their special day. To show my appreciation, I decided to put their birth dates in writing so I could remember and return the favor. That's why I want to share with you how I do it using a birthday tracker layout for bullet journaling.
What Is A Birthday Tracker Layout?
A birthday tracker layout is a bullet journal spread dedicated to mapping out birthday celebrants for each month of the year. It uses calendar-type planning, although the dates are indicated later along with celebrants' names rather than plotted on pre-made 30-day monthlies.
Most birthday trackers are designed to avoid confusion with calendar days. Instead, you'll only need to indicate a date in a month and to whom the birthday is dedicated.
How the Birthday Tracker Layout Tracks People's Birthdays
A birthday tracker layout is an efficient way to keep reminded of your loved one's special days. Unlike simply marking off the days on the calendar, using this system prevents you from forgetting the dates by giving you an overview of birthday celebrants to give presents to or celebrate with.
Similarly, analog birthday trackers provide better recall than digital reminders. People are more likely to remember things in writing than when shown data from smart devices 1. If you're wondering why you keep forgetting events despite enabling mobile notifications, it's because our brains are more efficient in memorization through actual handwriting.
Download This Free Printable Birthday Tracker Layout
As easy as this layout may seem, some people don't have the time to artistically create a birthday tracker from scratch. Don't worry because you can use this printable PDF of my birthday tracker layout to get you started.
Download My Birthday Tracker
How to Make a Birthday Tracker Layout in Your Journal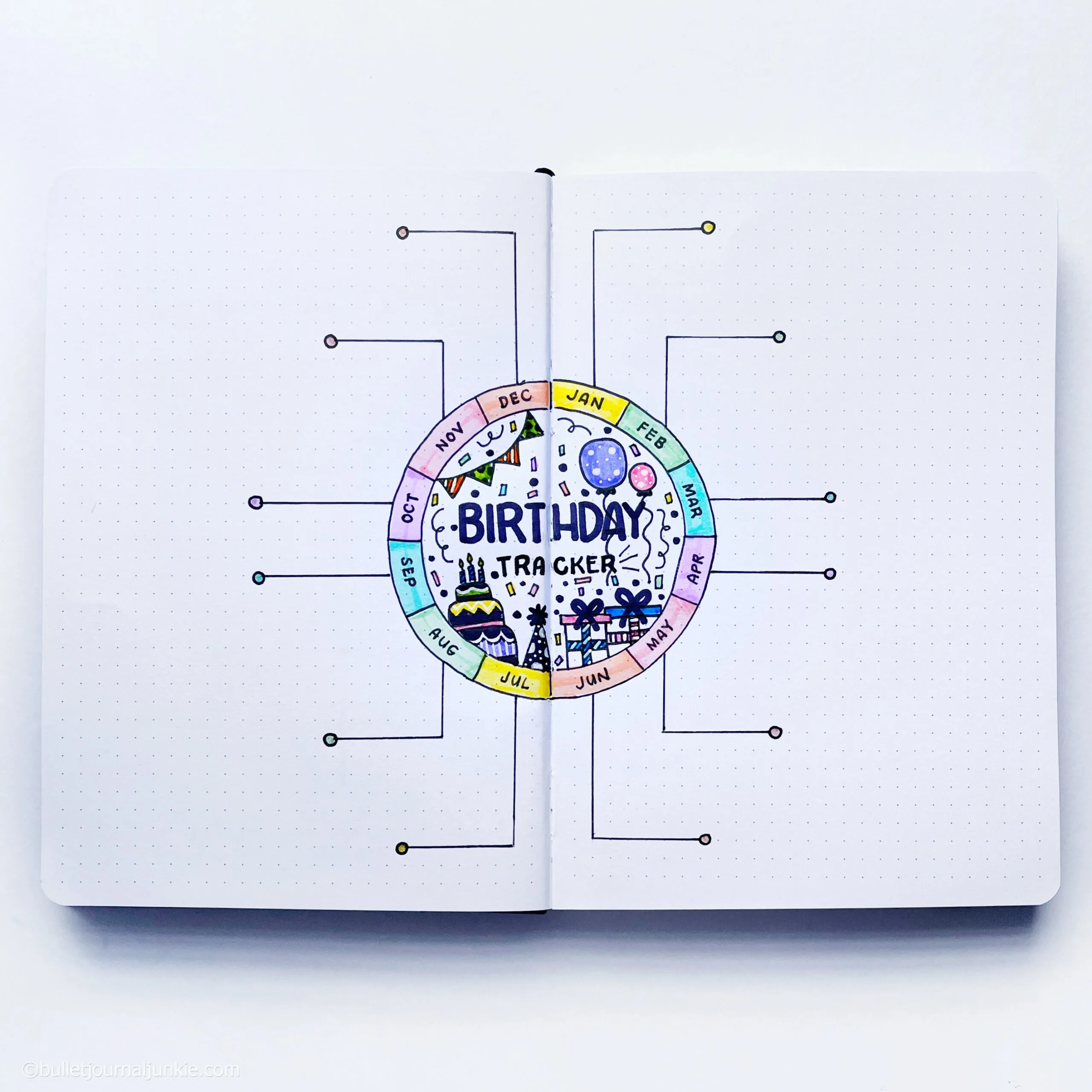 How To Make A Birthday Tracker Layout In Your Journal
Total time: 15 minutes
Draw a circle pattern on the center of a bujo spread
Using a pencil, draw a circle with a diameter of five centimeters, approximately 2.5 centimeters in radius on each page of the centerfold. You can use a protractor, a compass, or any round item with a flat bottom as a pattern.
Depending on your bujo dimensions, you can make your birthday tracker smaller or bigger but keep enough space for filling in the months.
Divide the circle's rim into 12 months
Once you've drawn the circle, add another ring about one centimeter wide, just enough to add labels for each month. This will create a rim that you can section into 12 months. Use a ruler to make sure each section is proportionately divided.
Trace the pattern with ink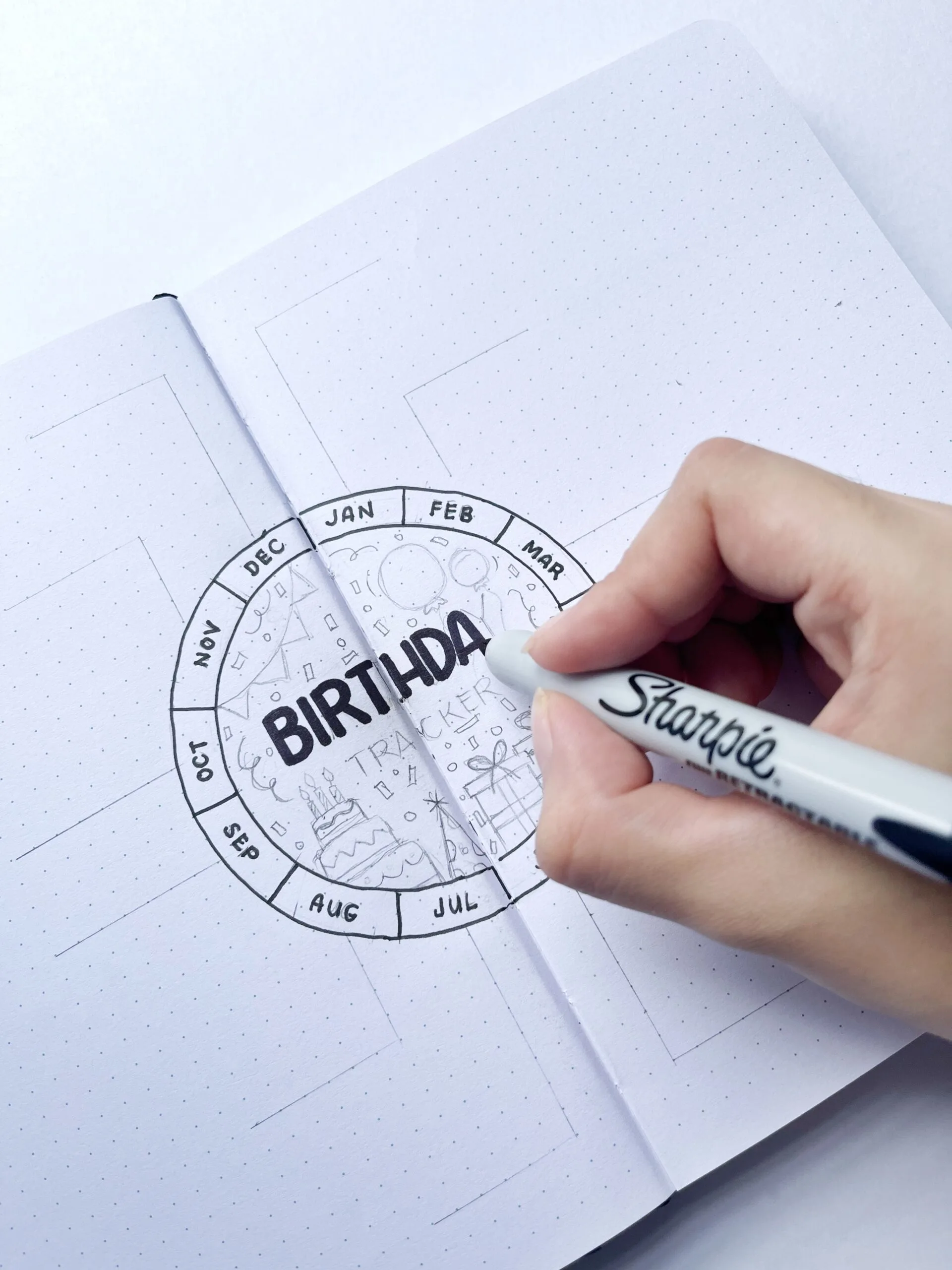 Using a ballpoint pen, trace the penciled outline to make it permanent and clean the edges with an eraser.
Label the tracker
Write the abbreviated months on each section of the rim. Draw a line extending from each month's section towards the outer area of the circle for adding dates and birthdays later.
Decorate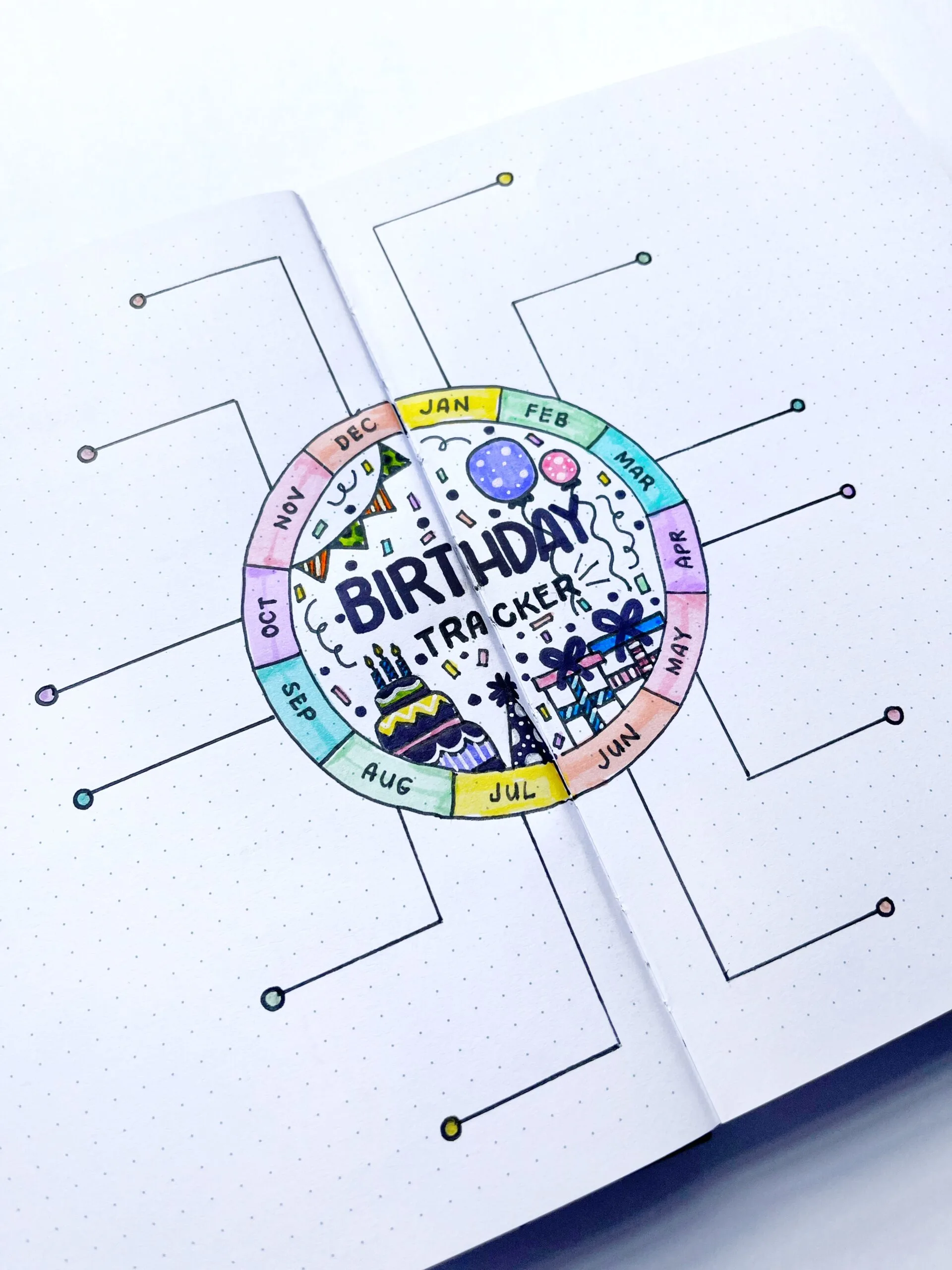 Add decorative details to your birthday tracker layout to make it stand out from the rest of your bujo reminders. You can use 12 individual colors to shade the portions of each month for better visualization.
Add the birthdays and celebrants' names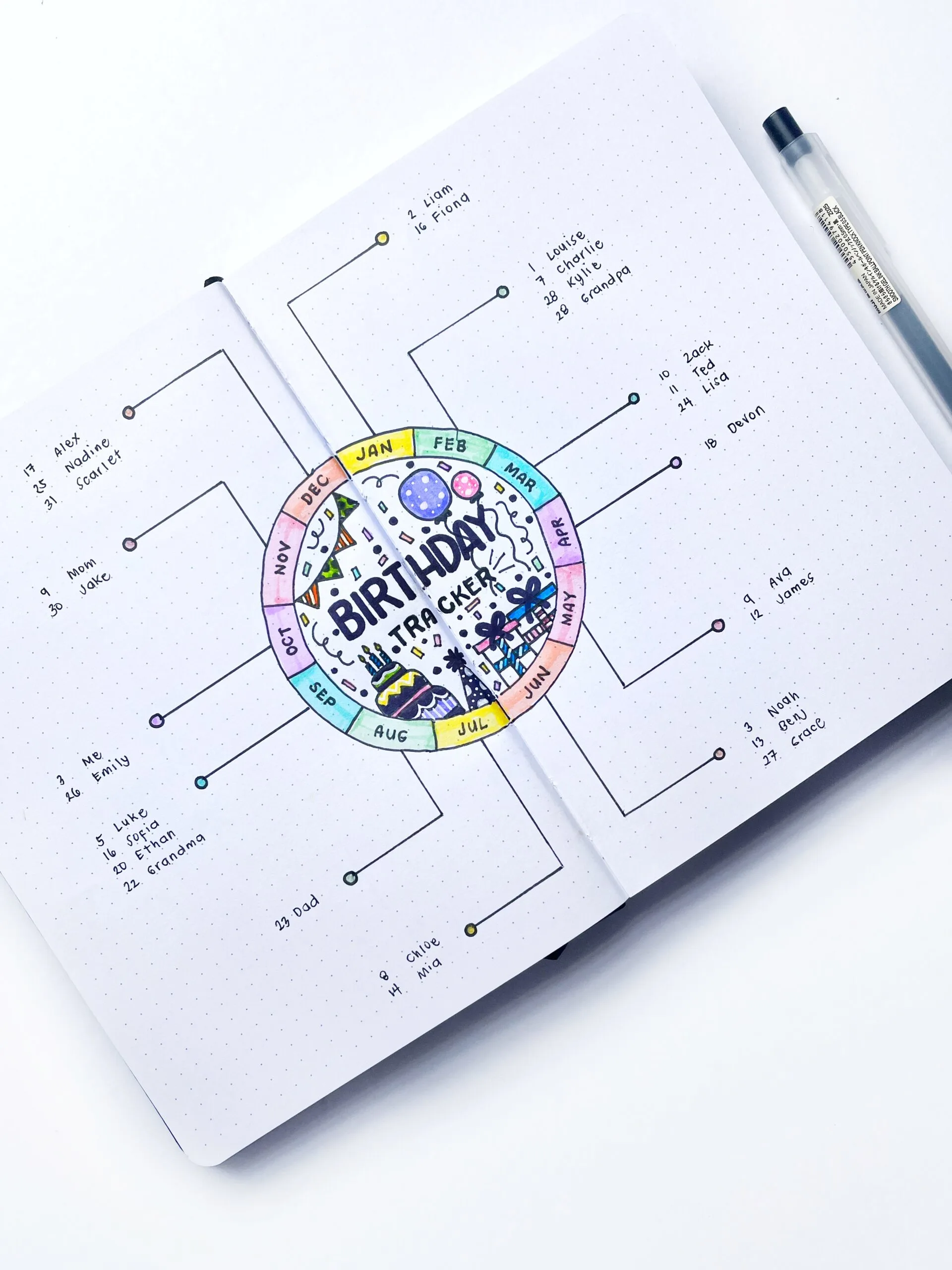 Using the lines next to monthly sections, you should indicate the dates and the celebrants' names. If there are several names to add to a single month, adjust your handwriting to fit everything into the available space.
Supply:
Notebook
Pen
Ruler
Marker
Pencil
Variations for Birthday Tracker Bullet Journal Layout
The birthday tracker layout I'm using for my bullet journal perfectly suits my planning needs and increases my recall of important dates. But for variety, some people use pie graphs in the likeness of a cake or a pizza divided into 12 months. Other journalers also prefer a clock-like design with icons such as cupcakes or party hats to indicate months.
The more straightforward layouts I've seen rather have individual boxes dedicated to 12 months, which suit those who prefer list style over more creative visuals.
Who Can Use Birthday Tracker Layout
Anyone who wants to remember their loved ones' birthdays can use this birthday tracker layout. Traditionally, people would check out the calendar to see if there's a special day coming up. With this layout, you can avoid confusing dates or forgetting specific birthdays that you have made plans to celebrate with everyone.
When Birthday Tracker Layout Might Be Most Helpful
A birthday tracker layout is most helpful when you're a social butterfly or just a busy person with a lot on your plate. By being reminded of the special occasion for the month, you can buy gifts or greeting cards in advance. This will buy you more time, too, when choosing which presents to bring to the event or what clothes to wear if there's a dress code.
You can even make plans on how to celebrate a birthday ahead of time. Whether it's a birthday tradition or a surprise event, being reminded of the dates and knowing what to do in advance will help everyone celebrate a birthday that is worth remembering.
How Often to Use Birthday Tracker Layout in a Journal
You can use this birthday tracker layout for the whole year since the spread covers all 12 months. You'll only need to indicate who has a birthday for a particular date within a specific month. It's important to take note of all of the birthdays you want to be reminded of to avoid messing up the whole spread whenever you need to make adjustments or add new birthdays.
Once the year ends, and everyone has had their birthdays, you can redo the birthday tracker layout on your next bujo notebook. You may need to copy everything from the previous spread or make changes to add or remove specific dates.
Where in Your Journal You Should Place Birthday Tracker Layout
I recommend putting your birthday tracker layout on the first few pages of your bullet journal to get an overview of birthday celebrants for particular months. You can also use a page marker or a tab labeled as "birthday tracker" so you can simply flip to the spread as needed.
Final Thoughts on Using Birthday Tracker Layout in 2022
Even with the Facebook notifications and digital reminders, having a birthday tracker layout in your bullet journal is still a good idea in 2022 because it's a mapped-out version of all birthday celebrants you value in your life. In this article, you have learned how to use a birthday tracker layout for keeping tabs on birthdays and also how to create variations of this layout for personalization.
Image Description For Screen Readers
The image shows a bullet journal notebook laid flat on its back and opened to a centerfold. Above the notebook are six Stabilo Boss highlighter pens. From left to right, their colors are yellow, green, light blue, purple, pink, and orange.
The centerfold shows a journal spread with a wheel illustration entitled "Birthday Tracker." The inner circle has doodles of a cake with candles, a party hat, gift boxes, balloons, and a party flags banner. The whole inner space is decorated with confetti.
The second rim of the circle is labeled with the months of the year. Clockwise from "Jan", the succeeding labels are "Feb", "Mar", "Apr", "May", "Jun", "Jul", "Aug", "Sep", "Oct", "Nov", and "Dec."
Outside the circle next to each month's section, lines are drawn to indicate which months people were born.
Sources
University of Tokyo. 2021. Study shows stronger brain activity after writing on paper than on tablet or smartphone[↩]