The smell of fresh off-the-press books is a surefire way to make every book lover hoard their favorite titles. To avoid having a pile of unfinished paperbacks and hardbound on your shelves, I'll show you how to monitor your progress using a reading tracker layout for bullet journaling.
In this article, you'll find:
Do you also refer to your books not as mere literary pages but as portals into a different ✨universe✨? Of course, WE do! Unfortunately, more universes = more books to be read. Hence, to keep my books from gathering dust on the shelves, I made it a mission to track my progress using a reading tracker layout. Since logging the pages I've finished reading, I realized that I was getting closer to my goal. I'd be happy to share with you how I did it.
What Is The Reading Tracker Layout?
A reading tracker layout is a combination of an illustrated book log and a tracker bar that helps monitor your reading progress. It is designed to track the cumulative pages read across the titles in your to-be-read list so you can see how far you are towards the epilogue or how often you have flipped through your books.
Unlike relying on your bookmarks or dog-earing the pages, a reading tracker layout gives you a visual representation of your reading habit. By seeing how many titles you've listed and the number of hollowed spaces available for adding more books, you can indicate the number of pages you're set to read before the year ends.
How The Reading Tracker Layout Tracks Your Progress
Using a reading tracker layout will help you see your inventory of to-be-read books. This can give you a sense of accountability to dedicate more time to finishing each title.
According to research, being deliberate about reading increases a person's comprehension and literary knowledge 1. Monitoring your progress using a reading tracker can help you form an intentional reading routine by giving you an overview of how many pages you've devoured regularly. It can motivate you to finish reading each title until you reach your goal of most pages read.
Writing the book titles on your reading tracker also helps curb your hoarding tendencies. Sure, it's really satisfying to check out new paperbacks at the bookstore, but have you finished the ones you left at home? By checking your current to-be-read list on your bujo, you can decide when to buy or postpone buying new titles until you've reached the epilogue of each book you've previously bought.
Download This Free Printable Reading Tracker Layout
If you're planning to start monitoring your reading progress right away, it's best to simply print out a printable PDF layout of a reading tracker to save you time. All you have to do is to fill out the spread with titles and colorize it instead of doing everything from scratch.
Download My Printable Reading Tracker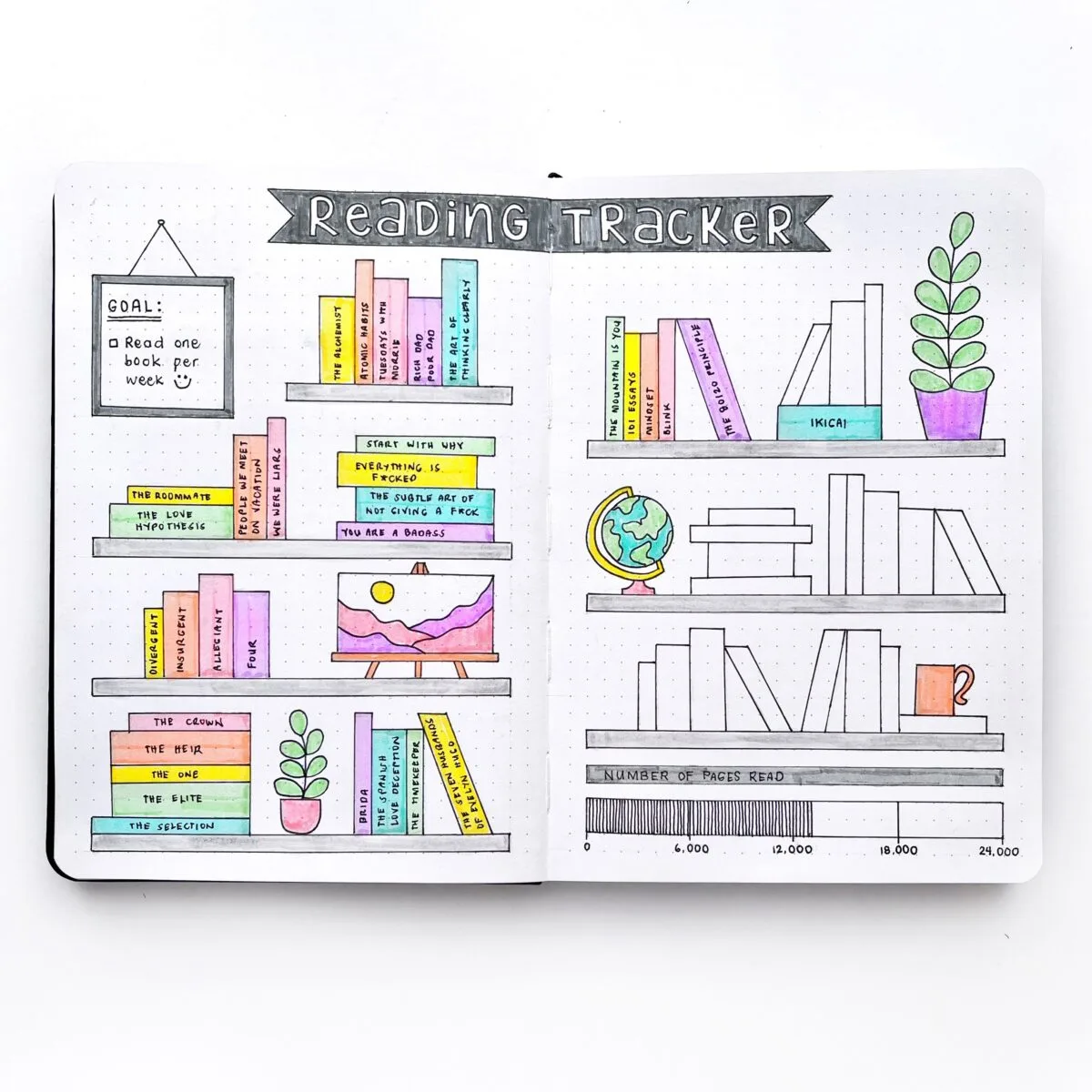 How To Make A Reading Tracker Layout In Your Journal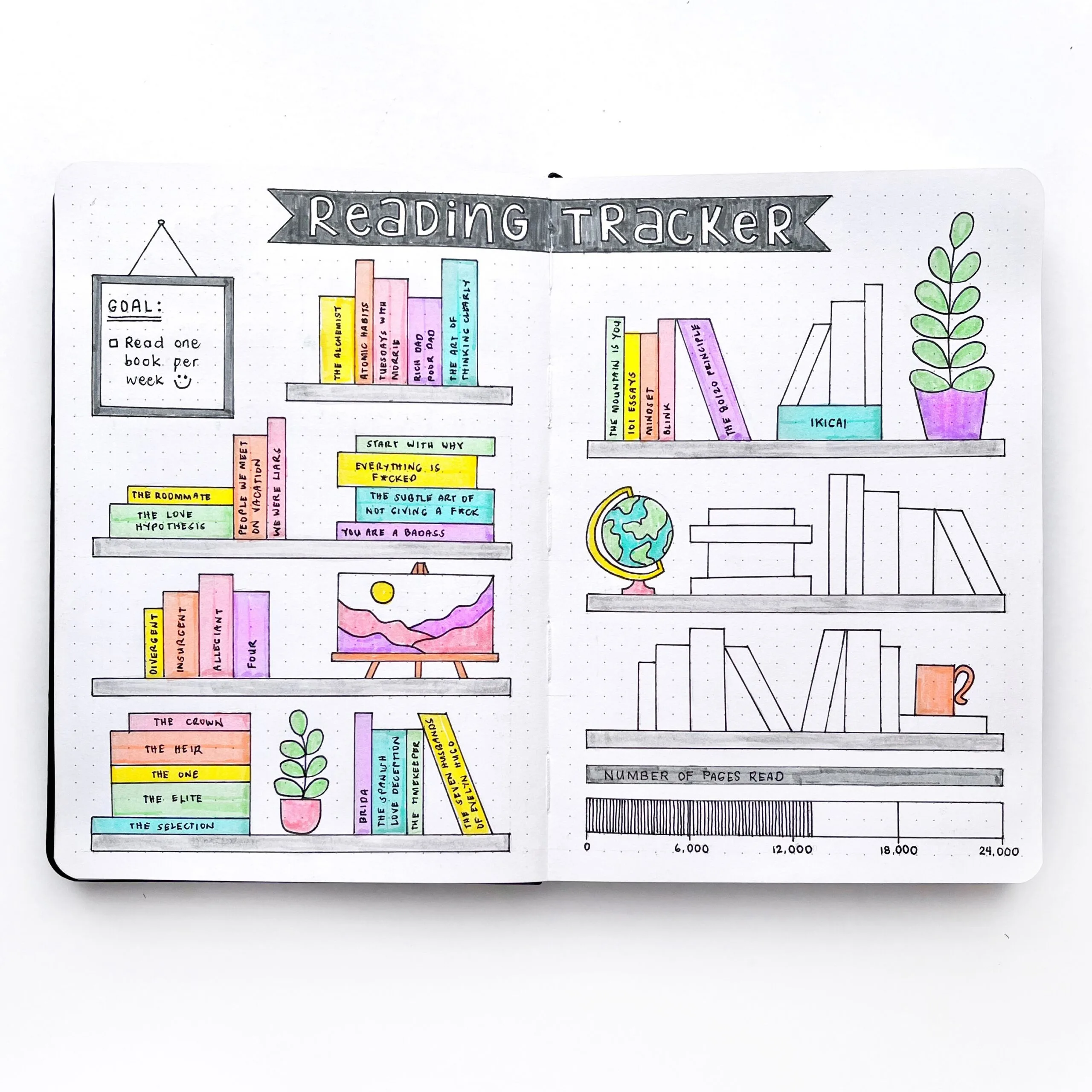 How To Make A Reading Tracker Layout In Your Journal
Total time: 15 minutes
Draw an outline of floating bookshelves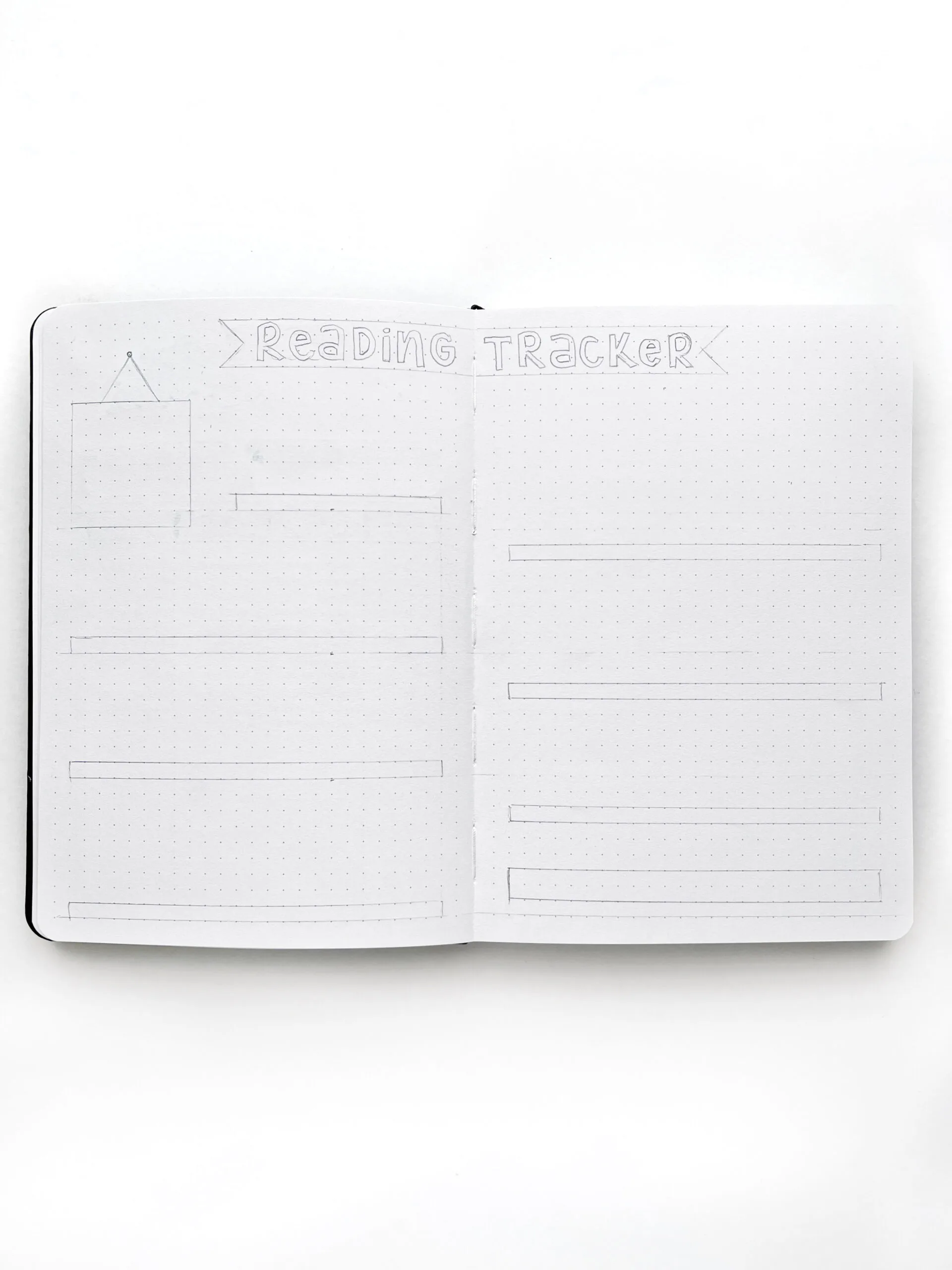 Using a ruler and a pencil, draw at least seven floating bookshelves on both pages of the entire reading tracker spread. Space them out proportionately such that there would be about one-inch width between shelves.
Draw the pattern of the books
Draw the books as if they are placed on an actual shelf. You can do this by drawing their spines vertically or stacked up horizontally. You may even draw a few books leaning against the others in a slanted position to mimic spacious shelves. Make sure that the spines have enough writing space for adding new titles.
Draw the tracker bar
On the right side of the spread just below the shelves, draw a pattern for the tracker bar. The starting number should be 0, while the other end of the spectrum should be marked with the number of pages you wish to finish reading for the year. Then, break down the entire bar into quarter sections, e.g. 6000 pages, 12000 pages, 18000 pages, and 24000 pages.
Trace the patterns in ink
Using a ballpoint pen, trace the outlines of the shelves, books, and decorative items.
Decorate the tracker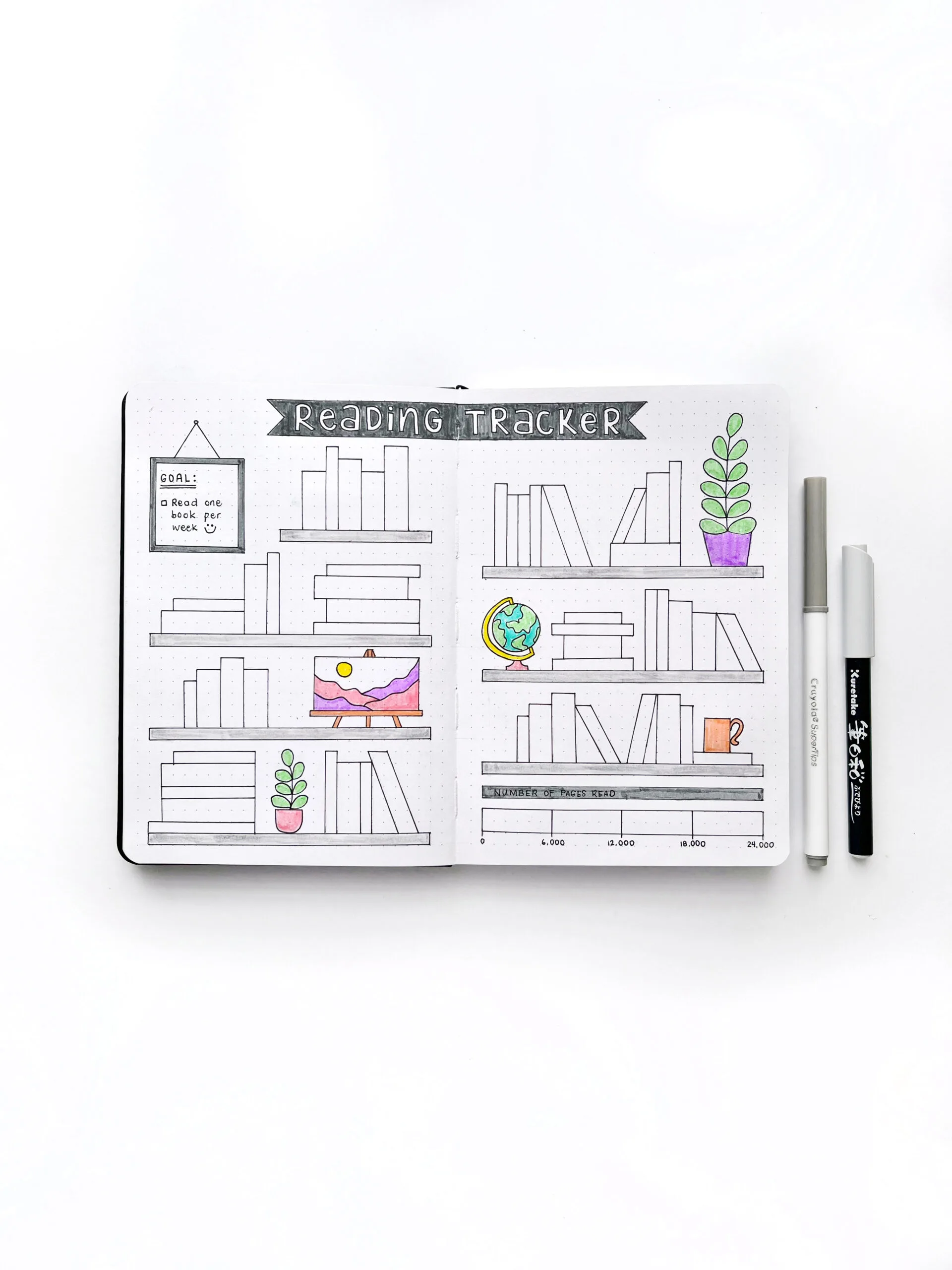 Add a few doodles here and there. I've added other shelf-worthy items such as a small potted plant, a globe, a miniature painting on an easel, and a coffee mug. These illustrations will give a visual balance that is easy on the eyes as compared to simply viewing the titles on the book spines.
I have also included a note on the frame hung at the upper left corner of the bookshelves. This is to mimic the look of a bookshelf set against the wall. Inside it, I wrote my goal, which is to finish reading one book per week.
Color the books and name them
If you prefer, you can color-coordinate the books according to genres or simply use colors to achieve visual aesthetics.
Add the titles into the spines. Only indicate the book titles that you have in your inventory and leave room for others that you might add in the future.
Track your progress
Once the whole spread is complete and colored, you may start tracking your reading progress. Make an estimate of the number of pages you have read in a week or a month, and shade the corresponding meter on the tracker.
Supply:
Notebook
Pen
Ruler
Marker
Pencil
Variations For Reading Tracker Bullet Journal Layout
If you want to try other variations of this layout, I can recommend a few good ones that work well with bullet journaling. One example is using keys or legends to identify which books are physical paperbacks, hardbound, ebooks, or live readings. This can help book-savvy users curate their reading list and see how many titles they have finished in weeks or a month.
There are also book trackers that include ratings for each title you have finished reading. This is a good inclusion to your reading tracker layout, especially if you're planning to recommend your favorites and bestsellers to your friends. You may simply add stars next to the titles to indicate how much you loved the stories.
Final Thoughts On Using Reading Tracker Layout in 2022
The reading tracker layout is still a good accountability tool even in 2022, due to the emerging "booktok" trend among youngsters. In this article, you have learned how to use a reading tracker for monitoring the pages you've read, as well as how to use and create variations of this bullet journal spread.
Image Description For Screen Readers
The image shows a two-page journal spread entitled "Reading Tracker". It is placed inside a banner that is shaded in gray.
Under the title, on the far left corner, is a drawing of a photo frame. Inside, there is a note that says "Goal: Read one book per week :)". On its right side, there is a shelf containing four books that are horizontally arranged. The titles are "The Alchemist", "Atomic Habits", "Tuesdays with Morrie", "Rich Dad, Poor Dad", and "The Art of Thinking Clearly".
The second shelf contains eight books arranged vertically and horizontally. The titles are "The Roommate", "The Love Hypothesis", "People We Meet on Vacation", "We Were Liars", "Start With Why", "Everything is F*cked", "The Subtle Art of Noy Giving a Fuck", and "You Are A Badass".
The third shelf contains four books and a canvas painting on an easel. The titles of the books are "Divergent", "Insurgent", "Allegiant", and "Four".
The fourth shelf contains nine books and a small potted plant as a divider. The titles are "The Crown", "The Heir", "The One", "The Elite", "The Selection", "Brida", "The Spanish Love Deception", "The Timekeeper", and "The Seven Husbands of Evelyn Hugo".
On the right page, the top shelf contains books entitled "The Mountain Is You", "101 Essays", "Mindset", "Blink", "The 80/20 Principle", and " Ikicai". Three books on top of "Ikicai" are still untitled. There is a potted plant on the right end of the shelf.
The shelf below it contains a globe and a few stacked books. The last shelf has the same untitled books as the one above. A mug sits above an untitled book at the end of the shelf.
On the bottom of the second page is a tracker labeled "Number of Pages Read". Below is a segmented bar showing progressions of 6s, beginning with 0 and followed by 6000, 12000, 18000, and 24000.
Sources
Hanlon.S. 2013. The Relationship between Deliberate Practice and Reading Ability[↩]