I was 33 when I left my job, moved 2,000 miles, and started grad school full time. As an adult learner, school was a very different place. It felt different both because I was a very different learner and because the landscape of learning had changed.
In this article, I thought I'd share some of the ways that graduate school after working has been a unique experience as a 30-something full-time student in an on-campus graduate school.
Many of my friends in graduate school were in their mid-twenties and although I often envied their ability to pursue graduate education at a young age, their experience and struggles often made me thankful for a decade of experience in the workplace to discover, explore, and develop my skill set.
The Best Advice I Ever got on Graduate School:
One of the best pieces of advice I received during orientation to my school was "Write the paper you need to write, not the paper you think your instructor wants." This advice gave me the freedom to think critically about what I wanted to learn, what I needed to explore, and how to creatively intersect that with assignments.
Instead of pedantically fulfilling generic course requirements, I wrote papers that formed the foundations of online courses, consulting, and publications I've done since graduation.
If you've considered returning to graduate school in your 30's you've probably considered the drawbacks:
temporary loss of income,
fear around not being able to academically perform to the level you expect will be expected in graduate school,
time concerns around family and relationships, and
worry about how you'll make time for reading and writing papers when your attention is split between school, family, and work.
Those are legitimate concerns that you will work out if you decide to take a path that leads to graduate school, but here's my list of the unexpected things I've gained from my return to graduate school in my 30s: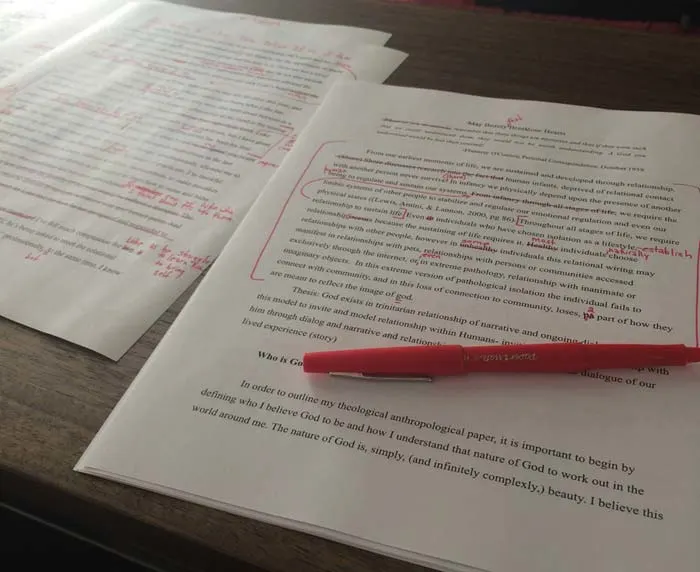 Why Returning to Grad School After Working is Great:
1. You are less afraid to ask for what you need
By 30, you've been in the workforce for years. You've navigated bosses, probably worked on good teams and not-so-good teams, and handled sticky human resources situations.
You know your strengths.
You've probably learned a lot about boundaries, how to take advantage of resources, and how to recognize when you need help. In the graduate school classroom, this translates to taking ownership of your own education.
In grad school after working for a few years, in your 30s and older, you care less about whether a question you ask in class might sound silly, and instead ask it because you need to know.
You know the cost of education, so you're motivated to take advantage of free resources, like a librarian's professional research skills or a professor's office hours, which statistically boosts academic success.
2. You know how to tell the difference between real world skills and bulls**t.
Younger students may aggressively strive for high scores, with little ability to filter the information for usefulness or relevance.
When entering graduate school, especially in a new field, older students may struggle to know what will and will not be useful in standardized tests, but even the awareness that "not all data is equal" is an asset.
As you progress in your field of study you'll develop an ability to combine previous workforce experience with the educational context and make wise decisions. You're better equipped to know how to best integrate the data in order for you to achieve long-term career success, not just short-term academic success.
3. You know what you need in order to learn and how you learn best.

By 30, if you've been paying attention, you bring the equivalent of a master's degree in YOU.
Because you know you, you probably have a better idea of what you don't know. Weak skills you may have heard reflected in work reviews in previous jobs become data you can use to tailor your own coursework.
Unlike a younger student, you have a better idea of what your weaknesses look like outside of the classroom, and can use the classroom to improve.
For example, knowing you struggle with giving presentations, you can choose to fulfill flexible assignments with a presentation, giving yourself the opportunity for practice and feedback.
In a school that is invested well in your growth and learning, taking the risk to do the harder assignment will be a safe thing, unlike trial and error experiences in the workplace. Working while going to school (or working micro-business graduate school-friendly side gigs like I did) can actually help you bring more real-world relevance to your studies.
4. Your professors are (hopefully) invested
I'm confident this is more true at graduate schools than other schools, and smaller schools more so than large ones, but generally, in graduate school, your professors are more invested.
Teachers in previous educational experiences may have been burnt-out or calloused by low student engagement, but graduate school professors tend to teach in an environment with smaller classes and more engaged students.
In graduate school, professors are more likely to see you as a person who brings unique perspectives and voice to classes, and you're more likely to find conversation and engagement rather than instruction and dictation.
For students straight from undergrad, it can be a difficult adjustment from being merely instructed to being engaged and invited into a conversation. But as a 30-something, you may find yourself surprised at the ways graduate school can feel more collaborative than you remember undergraduate courses. (In my opinion: If your grad school experience doesn't welcome your voice in the classroom, particularly in a humanities field, that's a red flag of a less-than-excellent learning environment.)
5. You have a larger vision, meaning you can co-develop skills
I actually think this is the best part of grad school as an adult learner. There was something about having experienced a decade in the workforce that made it possible for me to have a larger sense of purpose and co-purpose.
For example, I attended graduate school for the purpose of a master's degree, however, even as a student, my vision didn't end there.
I recognized it as an environment invested in my growth, and a place where it was appropriate to try new things, experiment, and sometimes fail. So in addition to getting a degree, I also worked hard to identify where I wanted to grow. For me, that meant practicing alternative communication skills: like opting to give a presentation every time it was an option to complete an assignment. This was part of my own goal to improve not just my learning, but also my teaching skills.
These 5 things made going back to graduate school after working as a 30-something an adventure full of growth and surprises. What was your biggest surprise when you started graduate school as an adult or older adult? I'd love to hear your comments and add them to my list with a credit to you.
2022 Update
I am now revisiting this post three years after my graduation from graduate school. I have loved reviewing this post and all of the early learnings I experienced by halfway through my four-year graduate degree program.
In retrospect, I'm so glad I returned to graduate school in my 30s- In fact, I can't imagine my life if I had not taken the risk to go back to school.
Even though I ended up not working in the career field I trained for (I'm now working a job I love in an adjacent field) I have no regrets – Deciding to get my master's degree was one of the best decisions I've ever made in my life.
The educational aspect was pivotable pivotal, but the professional connections and opportunities to work integratively, (that is, combining skills I already had from a decade in the workforce, with my new career path), help me use my education daily to create for myself the perfect job.